---
Liver Cleansing Diet Menu
Liver Cleansing Diet Menu is ideally meant for those people suffering from poor digestion, low metabolism, allergies, bowel problems, high cholesterol and high blood pressure. Liver cleansing diet menu can aid natural detoxification of the liver from waste products and toxins that builds up from refined foods, processed foods, fried foods, dairy products and consuming fishes containing mercury. Liver Cleansing Diet includes food sources that keep liver healthy and functioning properly for long. Here are some of the healthy menus listed that can help you keep liver problems at bay.
Foods To Eat When On Liver Cleansing Diet
| | |
| --- | --- |
| Allowed | Restricted |
| Organic Fruits | Butter, Margarine |
| Green and Yellow Vegetables | Processed Foods |
| Flaxseed oil, Sunflower Oil | Refined Sugars |
| Water | Alcohols |
| Lean meat | Caffeine |
Using natural and organic foods, Liver Cleansing Diet Menu has been planned to enhance ingestion and efficiency of liver.

Grapefruit juice is a refreshing drink that can be enjoyed any time of the day. The fruit naturally has the capability of cleaning the liver. Grapefruit juice can be prepared with fresh grapefruit that helps produce enzymes to flush out toxins from the body.

This is a very popular dish and had been cherished over ages. Primarily made with apple, it has the exotic flavor of cinnamon. Apple helps in eliminating toxins and easing the liver. Enjoy this in between meals or whenever you seek something crunchy to munch.

Cabbage soup in itself is a cleansing diet, which can be consumed in high quantity due to its low calorie nature. Cabbage contains abundant nutrition and aids weight reduction. Make it a habit to consume cabbage soup everyday to detoxify your liver.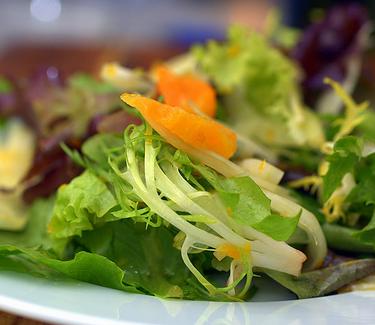 Goodness of green leafy vegetables can help in detoxifying the liver. Mixed green salad can be prepared with watercress, lettuce, basil, olive oil and grated cheese. All the green vegetables act as liver cleansing natural agents and are best taken raw.
Cauliflower and garlic stimulates enzyme production in the liver and is advised to consume regularly. This cauliflower mash is a delighting dish, with exotic flavors that can spice up your mood and health.
Enhance your liver consuming loads of fluid in forms of water, juice and soup. Opt today for liver cleansing diet menu to flush out the harmful toxins from your body to return back to pink health.
Image credits: ifood.tv
---