---
How to eat Stollen?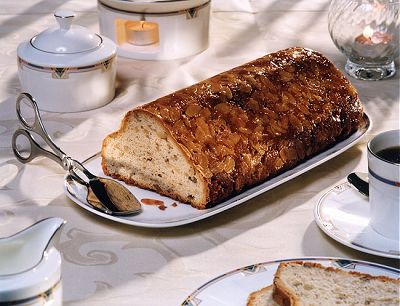 Stollen is the Christmas bread made in Germany and is one of the oldest tradition that has not vanished still. This is a bread that filled with marzipan butter and fruits, that allows to be served hot or cold after being taken out of the oven freshly. The bread also comes with new ideas incorporated like chocolate filled, almond cream and strawberry filled bread, which are much more delicious. Many find the crisp brad the next day morning toast slathered with butter or cheese spread is delicious and melt in your mouth.
Tips to eat Stollen
The good thing about eating stollen bread is eating them oven fresh, and usually a custom that they are baked throughout the Christmas season from September to December, and even in early January. They are good to eat them both hot and cold. These breads are better known as Christ's Christmas Bread, and is a custom to enjoy the delicious baked bread is widely available in the German Christmas markets only.
They contain plumped raisins and citron that are soaked in Jamaican rum before being added to the yeast and dough. Yet another significant thing about the oven fresh stolen is that every bread is knead separately, even on a large scale and is not from the same dough, so no tow stolen will taste alike, and this tests the German baker's baking skills.
The Christmas Stollen that has stood the test of times during Christmas are the Dresden, who make enough dry dough, which is good enough to prevent the Christmas almonds, raisins, currants, and gaily colored glaced fruits. This kneaded dough is then baked in the oven and served fresh, soft as a cake and tastes fresh as bread. Dresdens are popular for ages in the making and baking of stollen, the bread since 1400 A.D.
A final word, did you know? Stollen was originally known as Struzel or Striezel!
Image Credit: Worlwidegourmet.com
---