»

Blogs

»

Wine

»

Wine Pairing With Indian Food Hari Nayak
Wine Pairing with Indian food Hari Nayak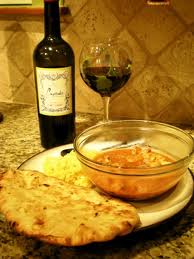 Pairing wine with Indian food is challenging, as there are a lot of competing spices and seasonings to contend with. Here are some suggestions and guidelines when selecting wines for Indian cuisine.
Kelly Magyarics Wine Consultant of www.trywine.net says
Gewürztraminer: Since "gewürztraminer" literally means "spicy grape" in German, this wine can pair perfectly with the spices and seasonings in Indian cuisine, especially ginger and cardamom. And since many bottles have a bit of residual sugar, gewürztraminer will tame the heat in curries and other spicy dishes.
Riesling: With aromas and flavors of crisp apple and peach, good acidity, and often a hint of sweetness, riesling is a match made in heaven for Indian cuisine. Try a glass or a bottle the next time you have a curry dish made with fruit like peaches or apricots. And, as with gewürztraminer, the touch of sugar in the wine will counter the heat in chili peppers and other spices.
Sauvignon Blanc: Sauvignon blanc's enticing flavors of lime, grapefruit, gooseberries and herbs make it a food-friendly choice for any cuisine, as the bracing acidity wakes up your taste buds and makes you want to go back for another bite of whatever you are eating. Try it with dishes that include tomatoes, lemons or limes, which will match the wine's acidity. With coconut milk based curries and other dishes, sauvignon blanc will cut some of the richness and taste extremely refreshing.
Rosé: Not to be confused with white zinfandel, rosé wine is completely dry. It has some of the complexity and weight of a red wine (think red berries and spice), as well as the acidity of a lighter white. Rosés can hold their own next to a lot of Indian dishes, including those made with lamb.
Sparkling wine: Often underrated as a food wine, and saved for special occasions, Champagne and other sparkling wines can be enjoyed with many different kinds of food. The refreshing bubbles and palate-cleansing acidity would especially work with Indian dishes that have heavy sauces.
Pinot Noir: Crave a bottle of red wine with your Indian food? Pinot noir is a smart choice, as it offers lots of fruit (cherries, raspberries, cranberries,) but typically has silkier, smoother tannins than more full-bodied red wines such as cabernet sauvignon or merlot, so it won't dry out your mouth or fuel the fire of a spicy dish you are enjoying. If you are serving a variety of Indian dishes at your next dinner party (or if you are out at a restaurant and everyone is ordering something different on the menu,) pinot noir is a great selection. It can pair with everything from tandoori chicken, to fish curry, to palak paneer
Cheers!
Image Credit: winesbyanj.files.wordpress.com