»

Blogs

»

Occasion

»

Weird Food Gifts For Your Valentine
Weird Food Gifts For Your Valentine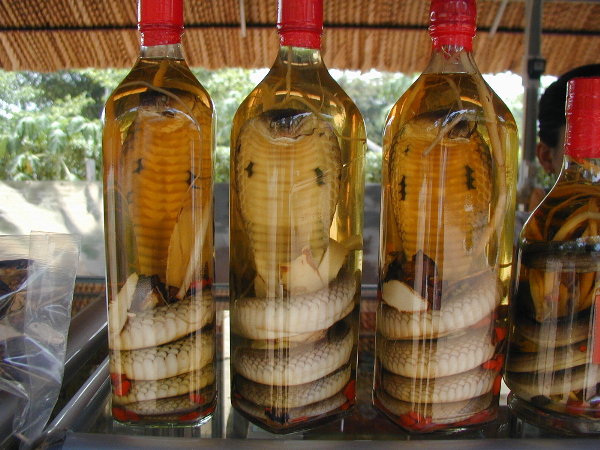 When you are planning to gift something this Valentine's Day, weird food gifts would probably be the last thing on your mind. But cast a look around and you will see that the art of gifting this Valentine's is now much more than just chocolates, champagne, soft toys, roses and moonlit walks. Things are getting really weird this year and it has nothing to do with your feelings. Shopkeepers, online stores, big brands, all are hopping on to this bandwagon that sells some of the most freaking weird gifts. Have a look:-
Horrible, isn't it? But there are websites offering you a package in case you want this snake wine delivered to your Valentine this year. In fact, they specifically offer Cobra wine and Scorpion wine. These bottles are a horrifying image in themselves, as you can see a cobra holding a smaller snake in its mouth, both floating slowly in a transparent concoction. Now, don't get it wrong. Snake wine or Cobra liquor is believed to be a potential aphrodisiac in Southeast Asia, Southern China, and Vietnam, so may be, there is some substance to this but you need to be sure that your beloved is as convinced about it as you are.
2) Love-Themed Vegetables
Confirming to the healthy trend this year, shopping chain Sainsbury's is offering love-themed vegetables, which include heart-shaped cucumbers. Being sold at a bargain price of just one pound, these cucumbers are no different from regular cucumbers in taste. It is just that when sliced, they look like cucumber hearts. In addition, Sainsbury's is also promising its customers that later this year, it will bring out more such themed vegetables. Well, if you really are health-conscious, you won't mind picking up a bag of these 'hearty' cucumbers for your loved one.
You may think what's wrong with these two now. After all, cheese and chocolate are two of the most loved flavors in the world, which can safely be associated with the Valentine's Day. But wait before you reach any conclusion. We are not talking of these separately but as one food item. Yes, that is what Long Clawson cheese makers have done. They have combined both the flavors, which, you know, are not that appealing together. However, we may be wrong too because what these cheese makers are offering is already sold out.
4) Human Heart Cupcakes
If you are feeling a bit gory this romantic season, then these cupcakes may just be the right gift for you. London Dungeon has come up with fantastically terrifying idea of cupcakes in the shame of human heart, with the blood pumping veins in place in blood red color. However, you will have to make a trip the Dungeon yourself to get your hands at one of these cupcakes.
5) Valentine's Steak
Some people think that nothing means "I Love You" better than a big chunk of raw meat. Never mind the fact that this may actually make this Valentine's Day your last with your beloved. So, it is highly recommended that you grill the steak first, and then serve it with a delicious wine.
6) Insect Food
If you really have a taste for the bizarre, then these little insect candies would be the right gift for you this Valentine's Day. Covered in chocolate, you can gift ants, crickets, larvae, grasshoppers, etc. In case you cannot decide on any one insect candy, you can send across an assorted box of various chocolate-covered insects, which would offer a variety of flavors to your beloved.
7) Edible G-String & Bra
Well, here is something that will not feel so weird but we decided to include it in the list nevertheless. This G-String and bra is made with fruit-flavored candies, and at just 60 calories, it is not going to be much of an impact on your Valentine's diet. Just the perfect recipe for a cosy Valentine dinner and after-dinner dessert, right?
So, that is the lowdown on the types of weird foods making the rounds this Valentine's Day. You may or may not use them for your Valentine but one thing's for sure, in case you do, you may have to kiss your love goodbye after this one! If you don't want that to happen, just stick to the most romantic food gifts for this Valentine's Day.
Image Courtesy: my-funspace.com, j-walkblog.com, dukat.hr, thegrip.soup.io, manataka.org, indiwo.in.com