»

Blogs

»

News

»

Vanessa Hudgens Eats Pizza
Vanessa Hudgens Eats Pizza
It's always interesting to see celebrities eating junk food.
Here is a picture of Vanessa Hudgens chowing down on a slice of Pizza.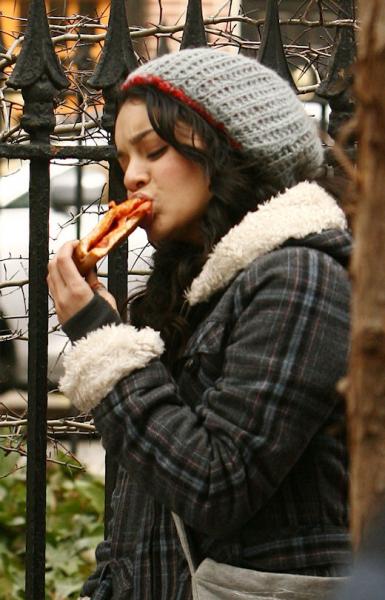 What do you think about this?

It's probably all she ate that day. Remember back in school when you ate such as only a pizza slice, but nothing else but coffee? I was very skinny, too skinny then. I was always trying to gain some weight. Shanti/Mary-Anne
Posted on:
16 April 2008 - 1:55pm

Eat pizza but try to take low calorie pizza.
Posted on:
17 April 2008 - 6:36am

nehapaul says :
I don't like pizza.
Posted on:
17 April 2008 - 6:57am

2pr says :
who says pizza's are junk food?! i don't agree on that. first of all, it's rich in tomatoes and tomatoes are rich in phytochemicals which fights cancer causing bodies in our bodies plus it has lycopene a very unique component found in tomato and is also known to fight cancer. pizza's also contain different variety of vegetables, plus the cheese and the bread to give you some calcium and carbohydrates. the meat of course, which supplies you with protein. now who says, its junk!?
Posted on:
17 April 2008 - 9:56am

Oh..she is like any one of us (who enjoys food) and what harm in trying a slice of pizza. Leave the gal alone. Phew!
Posted on:
22 April 2008 - 12:11am

2pr says :
i totally agree with you snigdha. leave the poor girl alone and besides i enjoy watching some of her films.
Posted on:
22 April 2008 - 10:06am

I use a multi-grain thin crust, always some veggies like sliced heirloom tomatoes, olives, garlic, sometimes tandoori chicken, or some lean meats, sometimes only veggies, and fresh herbs like basil. I love shaved cheese on top. A favourite pizza is where you bake the flat thin crust, top with supper thinly sliced procuitto, argula salad that is lightly tossed with Balsamic and a touch of roasted garlic olive oil, topped with shaved reggiano Paresano! I sprinkle some dry chile flakes on top. YUMMY! We have a large pizza stone barbecue griddle. I bought it with free shipping via Amazon a couple of years ago. Considering a pizza can e $30 here it paid for it's self quickly. http://www.amazon.com/Tilia-PizzaGrill-BBQ-Pizza-Maker/dp/B000F5IG10/ref=pd_bbs_2?ie=UTF8&s=electronics&qid=1209497806&sr=8-2 Makes great crisp crusted pizza. Cooking it on the barbie gives it a wonderful wood flavour. I use some soaked wood chis in the smoker box. Shanti/Mary-Anne
Posted on:
29 April 2008 - 3:36pm

2pr says :
oh just wanna comment about vanessa hudgens as she was as the most searched celebrity in yahoo.philippines last night! mabrook! actually at first glance at this picture (above) i really thought she was michelle rodriguez (million $ baby, resident evil, fast & d furious-1, lost series).
Posted on:
29 April 2008 - 3:44pm