»

Blogs

»

Reviews

»

Top Three Tofu Cookbooks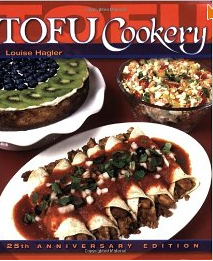 You do not have to be vegan or vegetarian to enjoy cooking with tofu. Try out one of these top three tofu cookbooks. The recipe ideas along with corresponding illustrations are truly spectacular.
1. Tofu Cookery (25th Anniversary) – Louise Hagler
In this recently revised edition of the 25-year-old classic, Hagler (Tofu Quick & Easy, Miso Cookery, Meatless Burgers) finds yet more ideas for this vegetarian staple. Presenting over a hundred recipes for everything from uncomplicated dips (chive, dill, roasted red pepper, and guacamole) to favorites such as manicotti, enchiladas, chili, stir-fries and cheesecake, Hagler incorporates many of everyday dishes that cooks will return to again and again. Some dishes, such as the intricate Spring Rolls and the astonishingly attractive Layered Casserole, a multilayered earth-toned dish containing spinach, tofu with pimentos and mushrooms, are truly divine. The sheer number and types of entries (a dozen puddings, 16 breads, 18 salad dressings) make the cookbook totally worth buying.
2. Giant Book of Tofu Cooking: 350 Delicious & Healthful Recipes

- K. Lee Evans and Chris Rankin
This comprehensive, all-vegetarian tofu cookbook celebrates tofu's versatility 350 ways, with simple recipes that will broaden your horizons and stimulate your taste buds. It is quite large and contains over 250 pages, most of which are recipes. There is a concise introduction to different types of tofu and methods that influence texture, flavor, etc. There are also numerous pages on the types of soy products currently available on the market and how to employ them. As with most cookbooks, recipes are segregated into tofu basics, breakfasts, appetizers, soups, salads, lunch and dinner, dressings, sauces and spreads, desserts, and a metric conversions chart, if you're curios. There is no dearth of variety in flavors here. There are plenty of regular recipes and unique distinctions thereof, as well as Indian, Mexican, Thai, Chinese, Japanese, Italian cuisine and a few others.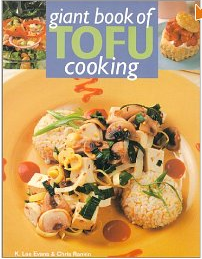 3. This Can't Be Tofu!: 75 Recipes to Cook Something You Never Thought You Would--and Love Every Bite

– Deborah Madison
In this award-winning and bestselling book, "Vegetarian Cooking for Everyone," the author reveals how to make tofu taste yummy and be the main attraction in 75 stir-fries, sautés, and other dishes. Pan-Seared Tofu with Garlic, Ginger, and Chives, Vietnamese Spring Rolls, Curried Tofu Triangles with Peas, and Pineapple and Tofu Fried Rice are just some of the creative recipes in this splendid collection.
Buy these top three tofu cookbooks online on amazon.com. One thing is guaranteed, you will not regret the purchase.
Image credit – amazon.com