»

Blogs

»

Occasion

»

Top 5 Vegan Christmas Cookies Ideas
Top 5 Vegan Christmas Cookies Ideas
What is Christmas without cookies? Unfortunately, most of the cookies available in the supermarket or shopping aisles are unsuitable for those of us who are strictly vegan. So, what to do? Well, the next best thing would be to bake some vegan Christmas cookeis which is why we've created a list of the top 5 Vegan Christmas cookies, just for you.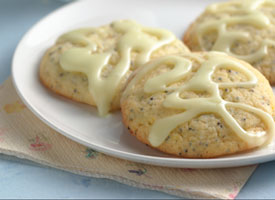 Lemon Poppy Seed Cookies: Vegan cookie lovers would love the tangy taste of these cookies. You can use any type of soy yogurt to lend that extra flavor to these easy-to-bake cookies.
Mint Chocolate Chip Cookies: The classic combination of mint with chocolate will win over the most hardcore vegan in your family. Use rolled oats and vegan chocolate chips, or carob chips, to add some chocolate gooeyness.
Simple Sugar Cookies with Vegan Chocolate Frosting: Well, you are no stranger to sugar cookies but these tend to become somewhat boring at the end of the day. So, you can spice up things with vegan chocolate frosting and add a festive touch with colored sprinkles.
Walnut Carob Cookies: For those, who want their vegan cookies to be ready in just 5 minutes, this recipe for walnut carob cookies is the best choice. All you need to do is mix all the ingredients (raw walnuts, raisins, raw cashews, almond butter and raw carob powder) in a food processor and shape the mixture into small balls! It's as simple as that! No baking required!
Vegan Gingerbread Biscotti: These cookies are bursting with ginger \and since these are more of a biscotti than a cookie, it means more crumbly texture. Being eggless and dairy-free, this recipe can be your choice for this Christmas alongside a cup of coffee!
Image Credit: notimetocook, tablespoon, trialx, realmomkitchen, healingfeast, doggydessertchef