»

Blogs

»

Menu

»

Top 3 Autumn Salad Ideas
When wondering how to make a salad in autumn, it is helpful to have the top 3 autumn salad ideas at hand. These great salad ideas for autumn can give you healthy, low calorie food options as you pass through this season when fresh produce are scarce and costly. You can even experiment with these salad ideas and replace ingredients to suit your liking! Enjoy!
Apple & Walnut Salad
When you need low cost salad ideas for autumn, this salad can be the one that fits the bill. With several apple varieties available for you to chose from during autumn, you can pick and choose which apples you want to highlight in this salad. Another great feature of this salad is that it can be assembled quickly. The wonderful flavor achieved by combining greek yogurt, agave, walnuts and apples makes this one of the top 3 autumn salad ideas: http://bit.ly/U9Sq4s
Warm Spinach Salad with Bacon and Eggs
This salad is featured among the top 3 autumn salad ideas because it can easily become the main course of a meal. The low-fat bacon adds a nice crunchy texture, while the eggs and potatoes add a creamy, smooth texture that pairs perfectly with the Dijon vinaigrette! http://bit.ly/Ullep9
Chickpea Salad with Cumin Vinaigrette
The next among the top salad ideas for autumn is an earthy, Mediterranean themed salad featuring olives and raisins. This salad gets its flavor from its unique cumin flavored vinaigrette, which is made by combining toasted cumin with oil and vinegar. Once the vinaigrette is done, the salad can be created by combining all the ingredients in a large bowl and mixing thoroughly. Using legumes, such as chickpeas, in this salad provides for a great source of protein!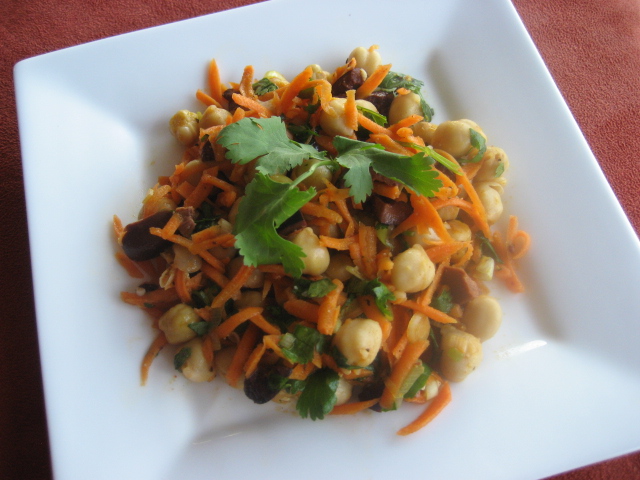 These top 3 autumn salad ideas make great use of autumn fruit and vegetables, and can be whipped up in a hurry with most ingredients being readily available in pantries.
Image Credits: aminglingoftastes.com, desertculinary.blogspot.com, cookingthisandthat.blogspot.com
Not an active link
Posted on:
18 September 2012 - 5:38pm
Hi Shirley, the recipe links are working fine now.
Posted on:
21 September 2012 - 12:09am
Cant get the recipes, link not working.
Posted on:
18 September 2012 - 6:04pm