»

Blogs

»

Coffee

»

Top 10 Recipes For Iced Coffee
Top 10 Recipes For Iced Coffee
Here are top 10 recipes for iced coffee which are excellent for your evening parties or anytime you feel like refreshing yourself up. These recipe ideas for iced coffee are easy to prepare and very delicious to have – hope you enjoy these recipes and have a good time with your friends.

1. Coffee Shake:
• To make coffee shake you need frozen blueberries, vanilla ice cream, chilled coffee and chocolate flavor.
• You will just need to brew coffee the previous day and chill it. Next day, you need to blend all blueberries.
• Use the remaining ingredients to make a puree till you get a smooth consistency.
• Serve with roasted coffee beans as garnish.
2. Elegant iced coffee:
• You will need chilled coffee, condensed milk, chocolate syrup, mint and rum for this recipe.
• You need to brew dark roasted coffee and add the remaining ingredients.
• Serve it with ice cubes and enjoy.
3. Icy Mocha Rocaccino:
• To make this refreshing iced coffee you will need chocolate syrup, brewed coffee, mocha chocolate, vanilla or chocolate ice-cream and some ice cubes.
• To make this, you will need to mix chocolate syrup with hot coffee till it melts.
• You will need to blend coffee, ice-cream, ice cubes. Blend for 2 minutes.
• Sprinkle mocha chocolate and serve.
4. Iced coffee served with coffee ice cubes: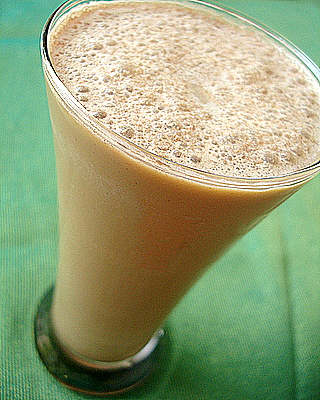 • Brew coffee
• Store in refrigerator to make it cold for 3 hours.
• When cool pour it in ice trays to freeze.
• When cubes are ready pour some cold coffee over these cubes and enjoy.
5. Chocolate espresso:
• You will need fresh roasted coffee, ice cream, vanilla extract and ice cubes.
• Crush ice cubes in blender.
• Add all ingredients and then blend again.
• You will get a creamy fizz.
• Serve chilled.
6. Coffee soda:
• You will need chilled strong coffee, coffee ice cream, club soda, whipped cream and sugar.
• Mix sugar and coffee in equal quantities in a glass.
• Add one scoop ice-cream.
• Fill the rest of glass with soda.
• Top with cream.
7. Coffee coke float: This is a recipe where you simply double the caffeine and add some extra cream.
• You need light cream, strong coffee, coke and coffee ice-cream.
• Mix coffee and cream and pour it in 4 glasses and half fill it.
• Add a scoop of ice cream.
• Top it with coke
8. Ice and honey coffee: Highly flavored coffee recipe.
• You will need instant coffee, boiling water, quart milk, ice cubes and honey.
• You need to dissolve coffee in hot water.
• Add some honey and stir it well.
• Add cold water and pour in the glasses.
• You can top it with milk.
9. Instant iced coffee: This is a frothy stylish drink which makes use of coffee crystals.
• You need coffee crystals, heavy cream, vanilla, ice cubes and water.
• You have to combine all ingredients till you get smooth and frothy base.
• Serve chilled.
10 Espresso Chill – This is an excellent iced coffee drink which does not need any machine to make it.
• You need instant coffee, cold water, ice cubes and sugar.
• Just combine all ingredients and blend till you get a smooth mixture.
Image credits: piringpanaz.com, bfeedme.com