»

Blogs

»

Occasion

»

Holi

»

Top 10 Ladoo Recipes For Holi
Top 10 Ladoo Recipes For Holi
Sweet treats are integral elements of Holi and ladoo is one among the most popular desserts of this color-filled occasion. There are quite a lot of laddoo varieties you can try for this special occasion. Let us get started now without wasting time…
Exotic Laddoos For Holi
Made using finely ground and well-roasted gram flour, these desserts come with the goodness of cashews and raisins along with the flavors of cardamom.
These snowy white, flaky ladoos are garnished with ghee-roasted cashews and raisins. Made using coconut flakes, sugar, milk, and clarified butter, these are flavored, many a time, with powdered green cardamom.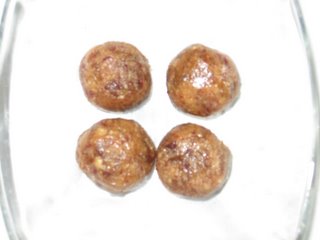 While these are not traditional choices, these make healthy desserts for Holi. Dates, cashews, and condensed milk are mixed thoroughly into a soft dough and shaped into small, bite-sized balls.
4. Khoa Ladoo
Prepared from sugarless khoa and sweetened with powdered sugar, this sinful indulgence comes with a sweet coconut filling. Flatten the prepared khoa using hands and place a coconut ball inside each. Now, seal thoroughly. Roll in confectioners' sugar and allow to cool.
5. Moong Dal Ladoo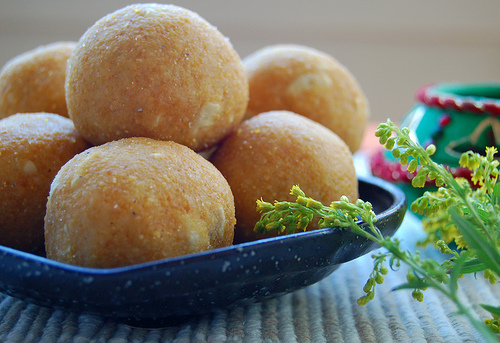 Made using split green gram, these are quite a nice choice for celebrating the festival of colors. The key lies in toasting the dal. Toast the lentil until the aroma of the dal fills the kitchen. Flavored with cardamom and nutmeg powders, these are garnished with cashews.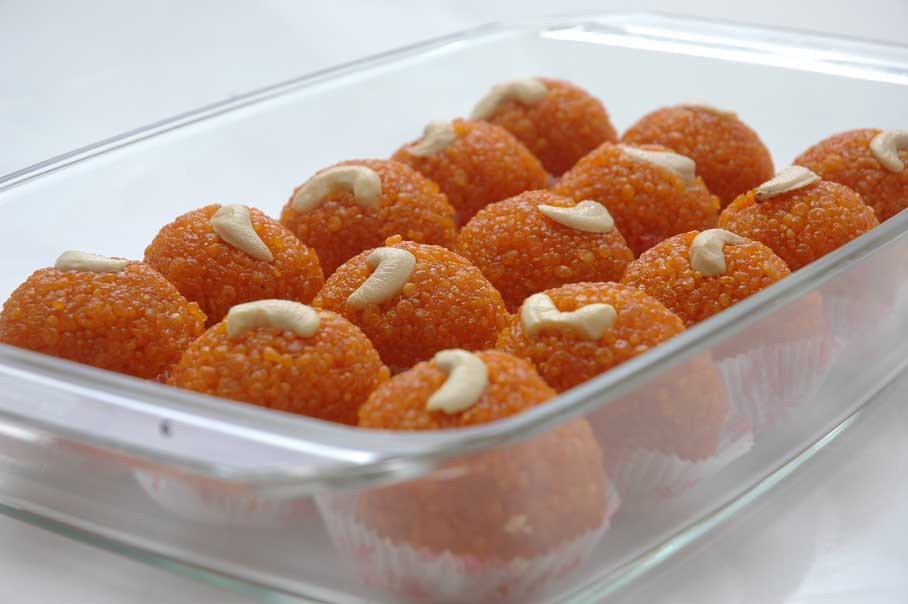 For those who do not know, this dessert gets its name from its appearance. Moti in Hindi means pearls. Small pearl sized gram flour dumplings are bound together using sugar syrup.
7. Groundnut Ladoo
This is the ball form of the famous peanut bars. There are countless versions of making this recipe. The basic one calls for the use of roasted groundnuts soaked in molasses syrup and shaped into balls. You can add flavors as per your palate.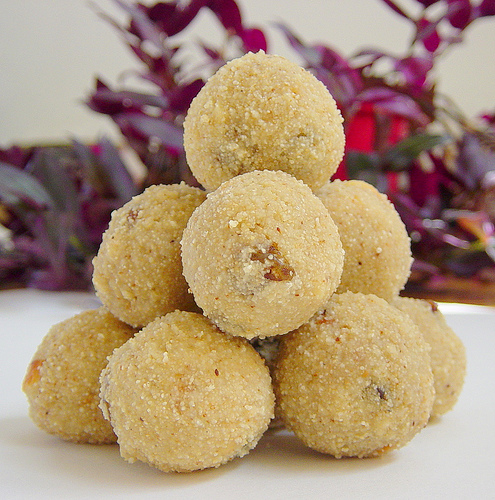 Made using semolina, milk, and sugar, this is a creamy, tasty delight. Coconut is an optional ingredient. You can add ground cardamom for enrich the flavors.
You can prepare this using white as well as black sesame seeds. Molasses as well as sugar are used to render the sweetness. Those who are diabetic can opt for sugar alternatives. A healthy snack, this is gluten free and dairy free.
Golden roasted wheat flour is mixed with powdered sugar, clarified butter, and shaped into balls. You can even choose to add jaggery along with wheat.
Ladoos, irrespective of the ingredient used in it, make rich and elegant dessert ideas. So, you ought to try these ladoo recipes for Holi! Holi re!
Image Credit: ifood.tv, peperonity.com, saffronhut.blogspot.in, thecuisine.blogspot.in, food-forthought.blogspot.in, holi-gifts.indiangiftsportal.com
Disclaimer: The images used in this blog are just for representative purposes. The actual dish can vary in terms of texture and visual appeal.