»

Blogs

»

Occasion

»

Top 10 Halloween Snacks & Halloween Appetizers
Top 10 Halloween Snacks & Halloween Appetizers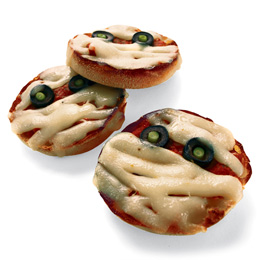 My favorite top 10 horror filled Halloween recipe ideas.
Recipe bits: You need scallions, English Muffins, Pizza sauces, red or green pepper, black olives and cheese sticks to make this mummy.
Recipe bits: Combine sugar, butter, egg, almond extract, and vanilla extract in a bowl. Use hands, and knives to shape the cookies into fingers and later, fix the almond nails to make them complete.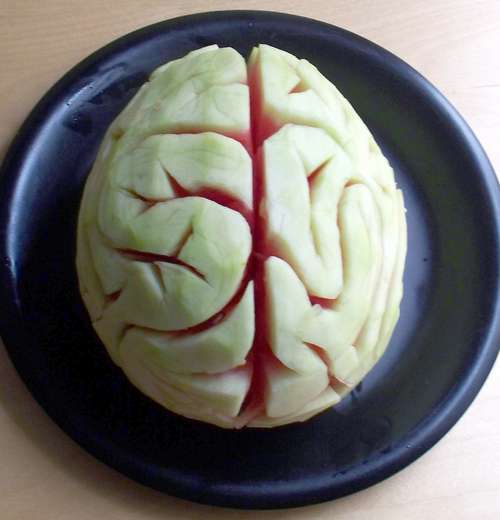 Recipe bits: This purely melon (water melon) brainy creation can be easily made with little expertise.
Recipe bits: You need pretzel rods and marshmallows to make the monsters sticks. The marshmallow monsters on stick are pure fun.
5. Monster Teeth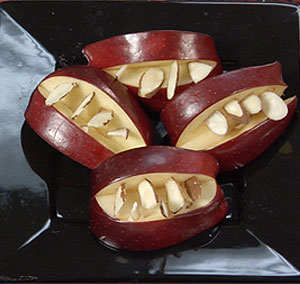 Recipe bits: Apples, sliced almonds, lemon or orange juice is needed to create the monster teeth. Dip apples in lemon or orange juice to prevent them from browning.
6. Salty bones
Recipe bits: You need refrigerated bread stick dough and a bit of creativity to perfect this snack.

7. Ghost on Broomsticks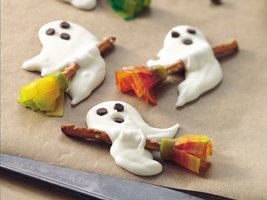 Recipe bits : This Harry Potter Style ghost on broomstick candies can be prepared using pretzel sticks, white vanilla chips, miniature semisweet chocolate chips and 1 roll Betty Crocker Fruit by the foot.
8. Spooky Spider's nest
Recipe bits: This tasty Halloween appetizer can be whipped within 10 minutes, only you need black beans, taco seasoning, green chillies and a few more ingredients to prepare this spider's nest.
9. Eerie Empanadas : Alien Larvae with Blood Sauce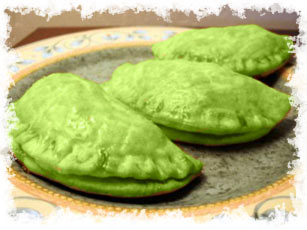 Recipe Bits: These empanadas look much stranger than they taste. This green colored Halloween savory is made from refrigerated pie crust, green food coloring, egg yolks and sweet potato stuffing. It can be served with Mojo sauce or cranberry sauce.
Recipe bits: Skeleton devilled eggs can be made within minutes if you have hard boiled eggs and straws at hand.
Image courtesy: familyfun.go.com ; kidsfunreviewed.com ; instructables.com ; pillsbury.com
childrensmercy.org ; bettycrocker.com ; divinedinnerparty.com; thriftyfun.com