»

Blogs

»

Health

»

Top 10 Food Containing Magnesium
Top 10 Food Containing Magnesium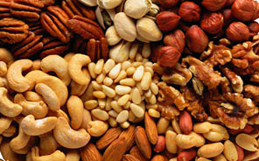 Magnesium is a fourth most abundant macro-mineral in the human body; this itself explains how valuable the mineral is to sustain one's health. Adequate consumption of Foods Containing Magnesium is essential to maintain over 300 biochemical reactions in the body. It is a requisite for normal muscle and nerve function, keeping a healthy immune system, maintaining heart rhythm, and building strong bones. Magnesium deficiency can result in muscle spasms, cardiovascular disease, diabetes, high blood pressure, anxiety disorders, migraines, osteoporosis, and cerebral infarction.
On the other hand, excessive consumption of the mineral supplements may cause 'Magnesium toxicity' resulting in diarrhea, nausea, weakness, and malaise, especially among people with kidney disease.
Recommended Dietary Allowance (RDA)
To ensure the adequate consumption of the mineral, given below is a table of the Recommended Dietary Allowance (RDA) of the mineral, based on age and gender. To meet the RDA of magnesium, one need not resort to supplements. Food containing magnesium are plentiful and can be easily resourced from you local market.
Age
(years)

Males
(mg/day)

Females
(mg/day)

Pregnancy
(mg/day)

Lactation
(mg/day)

1–3

80

80

4–8

130

130

9–13

240

240

14–18

410

360

400

360

19–30

400

310

350

310

31 +

420

320

360

320
Food Sources of Magnesium
The richest non vegetarian sources of magnesium are seafood like; fish (halibut, salmon, tuna, etc.), shrimps, scallops, and sardines. Vegetarian sources include tofu, green leafy vegetables, rice bran, wheat bran, legumes, nuts, figs, raisins, bananas, avocadoes, carrots, cucumber, potatoes, beet, cauliflower, cabbage, brussels sprouts, etc. Here are the top 10 foods containing magnesium.
Bran (Wheat, Rice & Oat): These ingredients can be found in many breakfast items, and they are rich in magnesium that gives 900 – 200mg/ 100g serving. Crude form of the bran is a better source of the mineral.
Dried Herbs: Dried herbs like coriander give almost 694mg/100g serving, which works out to be 14mg/tablespoon. Other herbs that are rich in magnesium are chives, spearmint, dill, basil, and savory.
Squash, Pumpkin and Watermelon seeds: The commonly discarded elements of fruits and vegetable act not only as good source of magnesium, but also double up as excellent snacks and garnishes. They provide around 500 – 550 mg/100g serving of the mineral.
Cocoa powder (Dark Chocolate): It makes mouth watering desserts, and also doubles up as a source of magnesium, providing 499mg/100g serving.
Flax seed & sesame seed: Oils seeds are much talked about today for their health benefits, these seeds provide around 392 – 350mg/ 100g serving of magnesium.
Brazil nuts: Nuts are a good source of magnesium, out of all the variety that are found, the brazil nut is the best source. It gives 376mg of magnesium/100g serving, which is 19 mg per kernel/nut.
Sunflower seeds: Usually used to extract oil, these seeds are also edible providing 325mg of magnesium / 100g serving.
Almonds, Cashewnuts, pine nuts & mixed nuts: These delightful 'anytime snack' items provide 290 – 250mg of magnesium/ 100g serving.
Molasses: A healthier substitute for refined sugar in cakes and breads, molasses give 242mg of magnesium /100g serving.
Roasted soyabean: Roasted soybeans (Edamame): Usually used as a snack, these are also a great source of magnesium (392m/100g serving).
Learn more about the role of magnesium in our life, in our article entitled 'Health benefits of Magnesium'.
Image credits: blueherbs.com
Isn't calcium crucial for bone development? Does magnesium have the same function as well?
Posted on:
29 September 2011 - 10:28pm
Bone health is supported by many factors, most notably calcium and vitamin D. Some evidence has been documented that suggests magnesium deficiency may be an additional risk factor for postmenopausal osteoporosis. This is because magnesium deficiency alters calcium metabolism and the hormones that regulate calcium.
Posted on:
30 September 2011 - 12:42am

Anonymous says :
We often get to hear about sodium, calcioum ,etc. but never get to know or bother to read about other minerals at all
Posted on:
30 September 2011 - 12:38am
A thoughtful read!
Posted on:
30 September 2011 - 1:05am

Anonymous says :
Great information... we must add this nutrients in our daily diet.. thanks.
Posted on:
30 September 2011 - 2:10am

nice to know so many sources of magnesium
Posted on:
30 September 2011 - 2:43am
out of all the foods listed above, I used to eat only a handful. But after reading this article, I will have to make certain changes to the diet to make sure my intake of magnesium is optimum.
Posted on:
30 September 2011 - 3:16am

chocolate has it?? really? isn't it like every girl's dream?
Posted on:
30 September 2011 - 9:21pm