»

Blogs

»

News

»

Top 10 Cities Famous For Their Food
Top 10 Cities Famous For Their Food
If you are an absolute foodie, then the world is your oyster, literally. To bring in the New Year, and satisfy the foodie wanderer in you, here is a list of the top 10 cities famous for their food. After reading this blog, you will never fall short of appetite again, that is after you visit these cities.
1) Rome
Italians don't just know how to make love, they also know how to make food to eat. This is the reason why Italy represents the "Eat" in Elizabeth Gilbert's bestselling novel, "Eat, Pray, Love." Expert travelers say that when you are in Rome, you do not have to worry about finding a nice place to gorge. You will have family-run pizzerias as well as hip restaurants to choose from.
2) Hong Kong
Hong Kong is all about food and nothing reflects it better than the Cantonese equivalent of a common greeting, which means, "Have you eaten yet?" Don't think Hong Kong is just about the regular Dim Sum, a local specialty, which is served everywhere. The cosmopolitan population of the city takes care of that as you get served at Michelin-starred restaurants as well as at Spanish, Japanese, and Indian restaurants.
3) Bangkok
Closer to Hong Kong is Bangkok, which is often called the "culinary capital of the world" as far as Thai food goes. However, what attracts hordes of foreigners to this Thai capital is not just the food but the atmosphere too, which launches an assault on your senses. So, now if you want a healthy dose of Pad khing, Miang kham, Khao phat, or Khao soi, you know where to go.
4) Paris
In Paris, you are in the food heaven, a fact amply bolstered by the movie, "Ratatouille." Here you get the best baguette, haute cuisine, exceptional wine, delicious chocolates, and one of the world's finest dining experiences. If you are a food connoisseur, you cannot live and not go to Paris at least once in your lifetime.
5) New York
New York, the melting pot of world cuisines, would not disappoint you whatever your gourmet preferences may be. The New York restaurants would serve you Indian, Vietnamese, Thai, Korean, Caribbean, Mexican, Italian, and Greek, within the same city block. You just name it and you can have it. However, the only thing you need to be prepared for is a steep dining price, which often is a result of the insanely high real estate prices.
6) Tokyo
Not many are familiar with the elaborate culinary landscape that the Japanese capital offers to foreigners. Whether it is the traditional Japanese food like, miso soup, Tamagoyaki, Sushi, or the modern Japanese fast food, the variety of cuisine you get served at Japanese restaurants is not what it used to be like a decade ago. It is much better, much bigger, and much tastier.
7) Lima
The Peruvian capital may seem like the unlikeliest candidate on this list but there are enough takers for its Cebiche, Causa, Anticuchos, Cau Cau, and Carapulcra, that this city had to be on the list. It makes a lot of difference to the Southern hemisphere because it is the only entry from that region. Lima boasts of street food, fusion food, seafood, and regional food, all in one place. So, next time you fly into Peru, you know, you are in safe hands, food-wise!
8) Barcelona
Spain is famous for its wine and cuisine, to which the star chefs have given some very interesting twists. You will love to dine in the restaurants of the Spanish capital for their ambience and the timber-beam roofs, which will remind you of an era gone by. However, don't forget to visit the local tapas joints too, for that street food flavor.
9) New Orleans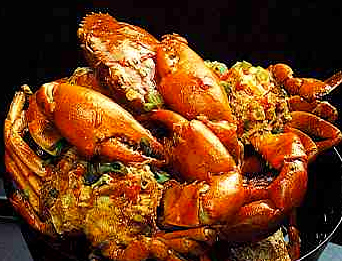 Would you mind if it is said that this is the only US city to have an original cuisine to its credit? Probably not because where else in America would you find Creole and Cajun food, apart from some very ethnic and delicious cuisines too. Whether it is the gumbo that you fancy or the jambalaya, the barbecue shrimp or the oysters Rockefeller, you will never go hungry in New Orleans.
10) Singapore
Well, this brings to an end the list of top 10 cities famous for their food and what a way to conclude. Singapore has emerged as the mini food capital in the recent years, giving serious competition to the other cities in the vicinity, especially Bangkok and Hong Kong. What proves it better is that you are spoilt for choice here even as you would not be able to find two Singaporeans who would agree on which one place is the best to eat.
Now that you are familiar with the best cities in the world, famous for their food, it is time to pack your bags and hop on to the next outbound plane.