»

Blogs

»

Menu

»

Top 10 Best Breakfast Foods
Top 10 Best Breakfast Foods
You should be ready to prepare a variation of breakfast recipes, when you know the
top 10 best breakfast foods
. Make a point to include healthy items in your breakfast and try to make them really delicious. The top breakfast food should be prepared by considering both of these factors; they should be good in taste as well as take care of your health.
Top 10 Best Breakfast Foods
1. Cereals with Milk and Fruits – Cereals are simply great to start your day. These days, you get so many varieties of them, that you can enjoy a different taste every morning. The taste enhances to a great extent when you add fresh fruits to them. It also multiplies the health benefit and provides you with the essential energy for the day.
2. Oatmeal – Oatmeal is another favorite choice for breakfast to many people. Oatmeal has multifold health benefits and it is easy to prepare also. Particularly with the instant variety, you can have delicious and nutritious breakfast within minutes. Make it tastier by adding maple sy
rup or honey. You can also add fresh fruits, if you wish.
3. Bagels – When you talk about top breakfast food, you cannot miss the bagels. This is another favorite item to start the day. Here also, you can get large variety to choose from. Toasted or plain, it tastes great with cream cheese. You can do mix and match with the flavored bagels and the spreads to bring adventure in your regular breakfast.
4. Eggs – Eggs are among the most important breakfast items, when you consider the nutritional facts. There are so many ways, by which you can serve eggs for the breakfast. Starting from simple boiled egg to poach to scramble to omelet, there are several options. While preparing omelet, you can make it really scrumptious by adding vegetables, cheese, ground meat, sausage slices etc. An omelet will probably be sufficient for your morning appetite and nutrition requirement.
5. Doughnuts – Doughnuts are favorites for me, particularly to start the weekend, as I feel little lazy to prepare the breakfast at home. Even many of the Americans still believe it as the most ideal breakfast. You will get a whole lot of them in your nearest doughnuts store. Complement these with a cup of fuming coffee.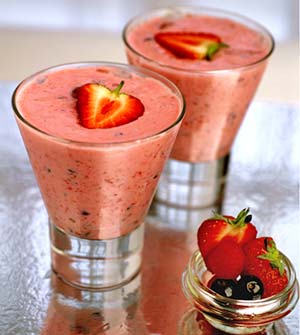 6.
Smoothies
–
Smoothies
are also quite popular among the kids, as they taste most delicate. Smoothies are quite filling and obviously boast a great deal of nutrition. Prepare your own variety of smoothies by using one or two new fruits every day. You can even combine 2 or 3 fruits, to enhance the flavor and taste. Also be creative to use different types of toppings to give an attractive look.
7. Fresh Fruits – Nothing can be more nutritious than a plate of fruit salad. These are light on your stomach but heavy on the nutritional benefits. You can eat as much as you like to satisfy your appetite. Use different types of fruits to make your fruit salad. Finally don't forget to spread some light cream on top of the salad.
8. Bread and Sausage – Lightly toasted breads go perfect with pan seared sausages. This is also quite heavy for your stomach. Use your favorite bread spread to top the toasts or you can even spread plain and simple butter. Season the sausages with freshly ground black pepper and jump start your day.
9. Sandwich – Sandwich is also a useful breakfast item. You can put anything you want as a filling, like cheese slices or vegetables or chicken or salami or anything else. Use lettuce, tomato slices and cucumber slices to spice up the sandwich. These ingredients will also make the sandwich much nutritious and filling for quite long time.
10. Pancakes – Sometimes you might want to start the day with a sweet tooth. Pancakes are quite easy to prepare also. You can add honey or maple syrup, to coat the pancakes and enhance the flavor and taste. You can also mix fruits in the pancake batter to get an amazing taste.
Image Courtesy: dealbase.com, houseofbagel.com, strattonhouse.com