»

Blogs

»

Menu

»

Top 10 Asian Noodle Dishes
Top 10 Asian Noodle Dishes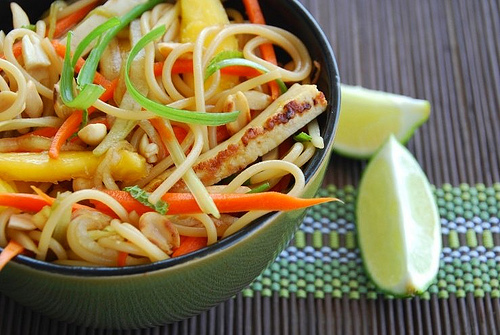 If you are bored of eating usual Asian foods, try noodle recipes, Asian noodle recipes ideas are in plenty. Here are top 10 Asian noodle dishes that you must try.
1. Vegetable and Chicken Lo Mein
Lo Mein recipes involve egg noodles that are made with wheat and eggs. Vegetable and Chicken Lo Mein can be cooked at home by mixing boiled noodle with stir fried chicken and loads of selected vegetables. Fresh garlic and ginger are stir fried for seasoning.
2. Apricot-Hoisin Pork Chops with Somen
Somen noodle belongs to Japan, made out of wheat flour, this noodle is thin. In above recipe, Somen noodle is topped with apricot flavored pork chops and hoisin sauce. It is served as a main course meal in Japan.
3. Soba Noodles with Miso Broth
Soba noodle is tan in color and thin; buckwheat plus wheat flour is used for making Soba noodle. Make a broth of chicken, mushroom and miso, pour over cooked noodles and top it with tofu and use fresh garlic and ginger for seasoning.
4. Udon Noodles with Sesame and Tofu
A vegetarian dish with noodles - this thick Udon noodles are made of wheat flour. Udon noodle is served with baked tofu, shredded carrots, diced cucumber, green onions and dry roasted sesame seeds are sprinkled over this purely vegetarian dish.
5. Sweet-Hot Asian Noodle Bowl
Noodles are served cold as well. This noodle dish is a mix of many spices used as seasoning and is made spicy by way of using chili sauce. All ingredients are mixed and sesame oil is drizzled over it along with some toasted sesame seeds.
6. Asian Chicken Noodle Soup
Cooked noodles are added in a chicken broth. This soup is served and eaten hot.
7. Pad Thai
Pad Thai is a stir fried noodle dish. Noodles are seasoned with paprika, garlic, bit of brown sugar and a dash of rice vinegar. Fried noodles are loaded or topped with diced vegetables, fried shrimps and tofu. Finally a handful of peanuts are chopped and added with a couple of lime wedges.
8. Beef Noodle Salad
Beef noodle salad is made from cellophane noodles either in boiled form or deep fried form, topped with snow peas, carrots and roasted beef. A bed of spinach is used for serving this dish.
9. Vietnamese Beef-Noodle Bowl
A very popular Vietnamese dish, beef noodle bowl contains overnight marinated and cooked meat with red chilies, ginger, sake, star anise and some fish sauce is drizzled over it.
10. Asparagus and Shrimp Stir-Fry on Noodle Pillows
This is a full course meal made from noodles. Bake noodles for a crispy base, stir fry asparagus and shrimp and top them over baked noodles.
Image Courtesy: arm3.static.flickr.com