»

Blogs

»

Reviews

»

The Top 3 Orange Cookbooks
The Top 3 Orange Cookbooks
Oranges are the flavor of summer, sun, and sweet-sharp aromas in the kitchen! This happy fruit brings many culinary avatars in the orange cookbooks featured for you below. The recipes will release a flood of ideas, even memories, of chicken and orange salad, of pies and cheesecakes, of juicy concoctions full of vitamins! There are more than a hundred easy, swift, and fun-filled sunny ways to brighten the taste buds of your loved ones! You can keep summer all year round on the dining table, just turn the first page and inhale the goodness of these sure-fire recipes that take you to happy days!
1. Orange Recipes: Famous Recipes from Famous Places-By Joyce Lafray
This book has an orange recipe for everyone. From crispy duck with orange glaze, refreshing fruit salads, luscious and satiny smooth Orange flan for that sweet tooth, and dozens of other tricks to conjure up culinary magic with this sunny fruit. You may wonder why you never thought of these combinations yourself, with such treats as orange pancakes and mama's orange biscuits. Flip through the pages and choose any recipe, to add a dash of color to your meal!
2. 365 Orange Recipes: An Orange Recipe For Each Day In The Year-by J L Lane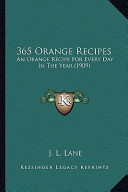 You found a bargain on the oranges, and bought more than the fruit bowl could handle. This cookbook has a magical way of dealing with that situation. A mélange of ingredients that includes chocolates with orange zest, bananas and oranges in liqueur, mousses and flans, pancakes and cookies, the list is endless!In combinations using chicken, salmon, and duck, this book has recipes for every single course you can think of, even as you look at the fruit bowl and wonder why you bought so few oranges!
3. Oranges and Lemons- by Coralie Dorman

Of course, you remember the nursery rhyme! The orange is part of our education and our kitchen, and this cookbook brings the joy of oranges in its 70 recipes with full color photographs. Some of us like the bouquet of citrus fruits in its variety and splendor. This cookbook brings you a tangy array of other complementary ingredients as well, like its title! Earmark the fruit salad recipes, or try the seafood and orange combinations. Opt for a light summer salad or the heartier, mouth-watering grills. There is so much to look forward to in these bright, sun-kissed pages!
How often have we wished we could eat more fruit, without the mundane rituals? The cookbooks suggested above cover all the seasons, and all the reasons for an orange a day, every day! Viva La Orange!
Image Credits: static.newworldencyclopedia.org, images.amazon.com, borders.com.au, cache0.bookdepository.com