»

Blogs

»

Reviews

»

The Call Ahead Seating System That Has Caught The Attention Of The Savvy Restaurant Owner
The Call Ahead Seating System That Has Caught The Attention Of The Savvy Restaurant Owner
There is a absolutely cool new call ahead seating system for restaurants
that has fully embraced Social Marketing as it enables the booking of
tables in ways never seen before.
Mobile Matradee's Wait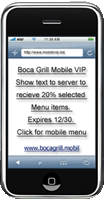 List
Matradee enables patrons to receive a SMS text message when a table
opens. Rather than the clunky restaurant beepers that seemed to
constantly walk out the door every week (despite your best efforts),
with Mobile Matradee, those people waiting for your best tables to avail
themselves will receive a text message on their mobile phone.
No
need to worry about your wait list as Mobile Matradee integrates with
your system perfectly.
Call aheads and walk ins will not be in
competition for your prime tables as Mobile Matradee seamlessly and
efficiently enables you to accommodate both with it's web hosted
restaurant wait list management system. Mobile Matradee is what call
ahead restaurant seating has waited for.
Welcome to a new age in restaurant marketing
ideas that work.
Welcome to a revolution in restaurant paging
systems that is sure to increase ROI night after night while lifting the
brand of your establishment clearly into the 21st century.

Restaurant Beepers says :
I guess this is a great idea provided that the cell phone owner is happy to receive spam marketing messages to their cell phone. Also it does of course exclude anyone who dosent have a cell phone when they visit a restaurant. I dont see text paging taking over from restaurant pagers anytime soon. But I am biased!
Posted on:
13 April 2010 - 7:13pm

It's a premission based marketing program. Guests can't recieve messages unless they have consented (signed up) to recieve promotions. Text paging won't take over pagers anytime soon but cell phone pagers (voice and text) will, probaby in less than 5 years. I am not biased, just practical.
Posted on:
28 May 2010 - 5:48pm