»

Blogs

»

Facts

»

Say Hello To National Fettuccine Alfredo Day
Say Hello To National Fettuccine Alfredo Day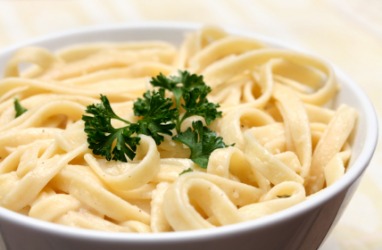 February 7, 2013 is National Fettuccine Alfredo Day. Fettuccine, a flat ribbon-cut noodle, comes together with butter, cream and melted Parmesan cheese to make a delicious past dish called Fettuccine Alfredo. Pasta is such a popular dish across America that it is no surprise that a separate day is dedicated to this one version of pasta. Since every shape and texture of pasta is designed to hold different sauces, Fettuccine is best suited for thick creamy sauces.
The first plate of Fettuccine Alfredo was served by a chef, Alfredo di Lelio, in 1914 to entice her wife to start eating again after she lost her appetite following the birth of their first child. While Fettuccine is delicious with any creamy sauce, it taste wonderful with vegetables and seafood too. Thus, it seems only natural that you should pick up any of the following recipes to celebrate the National Fettuccine Alfredo Day.
Those who like their Fettuccine Alfredo in its characteristically classic form, this is the recipe to choose. Heavy cream, egg yolk and Parmigianino Reggiano cheese come together to make a rich and creamy sauce that leaves a long-lasting aftertaste on your palate.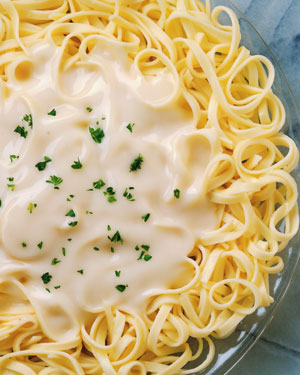 This is a somewhat elaborate recipe that you can try out on the National Fettuccine Alfredo day or some other special occasion. It calls for nuts like walnuts, pine nuts, cashews etc, along with the basic ingredients like garlic, olive oil, Fettuccine, etc. The resulting dish has the creamy consistency of the pasta and sauce interspersed with the taste of crunchy nuts.
Fettuccine Alfredo With Chicken
This is a classic combination celebrating poultry and pasta together. You can use any form or shape of chicken but this recipe calls for julienned chicken pieces, already cooked, and tossed together with the pasta, butter, milk, cheese and seasoned with parsley, ground pepper, and salt to taste.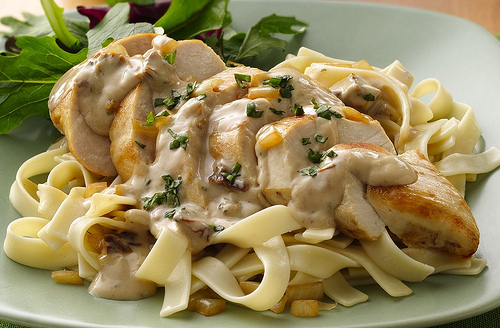 Fettuccine With Light Alfredo Sauce
Those who are not a big fan of the rich and creamy variety of this classic pasta dish can try out its lighter version. This recipe is made with skimmed milk, and just Parmesan cheese. Therefore, it is not heavy on the stomach but still gets you the authentic Italian flavor intact.
Other Articles You May Like To Read:
1. Foodie Thoughts For February 7
2. How To Thicken Alfredo Sauce?
Image Courtesy: foodimentary, parajsa, milk-and, lomontesrestaurant, youthradioeats