»

Blogs

»

Personal

»

Rajasthani Thali
On our second night in Udaipur, we visited this place called Aapni Dhaani. If you don't have time to visit a small village, here's your chance to get a feel for Rajasthani folk culture. Aapni Dhaani offers camel rides, playground swings, traditional music, and puppet shows. You'll get a nice Rajasthani Dish including 'Daal Baati Choorma' served to you the traditional way - sit on the ground and eat with your hands.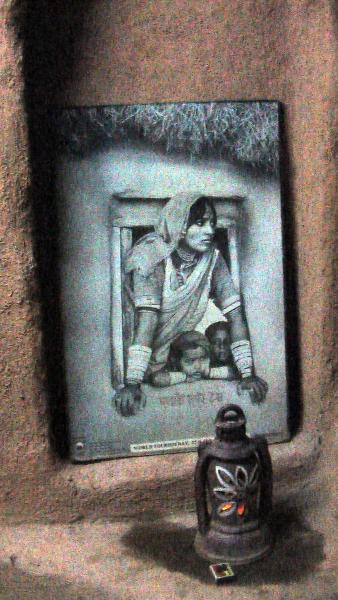 At the entrance is this poster that says 'Padharo Mhare Des' or 'Welcome to my land'. Once inside, we sit on cots and watch dancers perform to folk tunes while we're offered water, followed by papad and 'Makki ki raab' which is prepared by mixing n blending boiled corn with salted butter milk.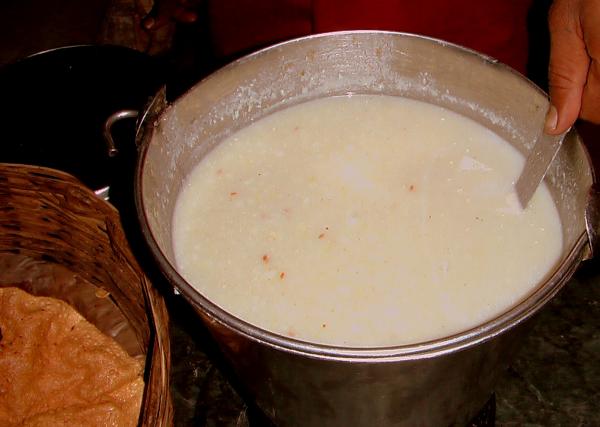 Makki ki raab
The entertainment continues. We watch a trapeze artist (a young kid) do fascinating stunts on a high wire. A magician displays his fare. Among other things, he makes pigeons appear n disappear n then reappear!
For dinner, we're taken to an enclosure which is more like a hut- all hay n clay. Seated on the floor, we're served a full course Rajasthani meal - starting with 'Dal Baati Choorma' (with loads of ghee and gud), followed by 3 types of roti (Makai, Bajra and the normal wheat roti that we eat everyday)...all coated with white butter. For sabzi we had Kadhi, Aloo Dum, Gattee ki sabzi and a beans vegetable (I think its called phali). There was also Lahsun or Lahsan ki chatni (awesome) and roasted papad.
I was already feeling quite full but there was more (actually, much more) to come. We got Khichda (again, with ghee and sugar) followed by rice. Once we managed to finish all of this, the desserts arrived - Jalebi (not one or two, but an entire row) and Rasgullas.
Post dinner was a puppet show (you can never tire of one) and a camel ride.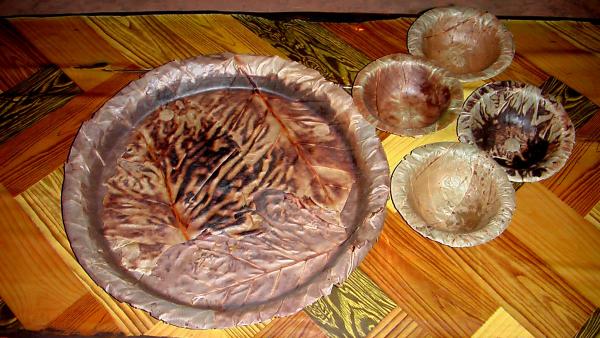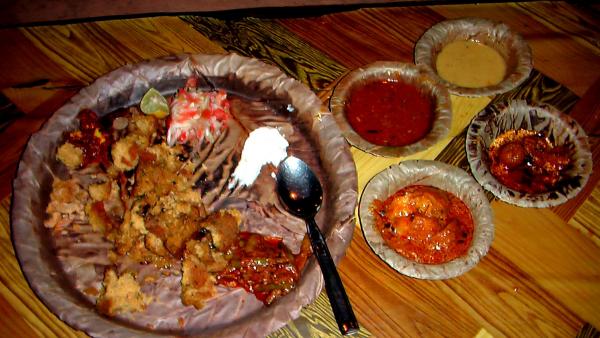 Food was served in Pattals (plates made from dry leaves).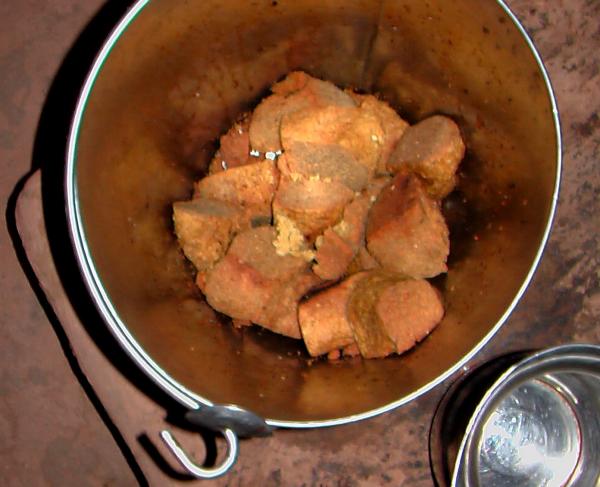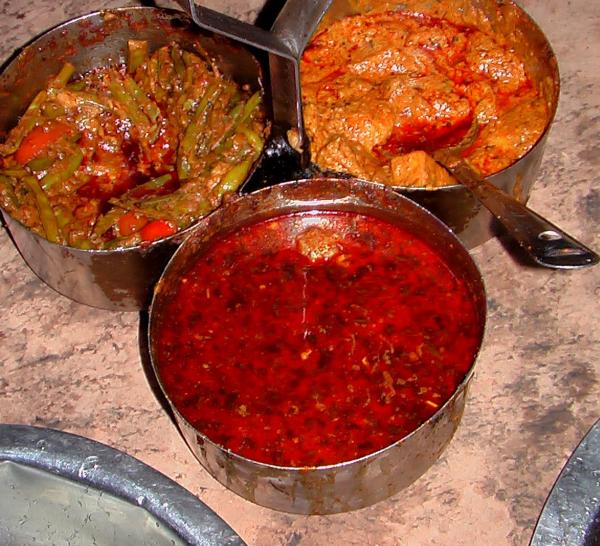 Baati in a Balti!                                         The Sabzis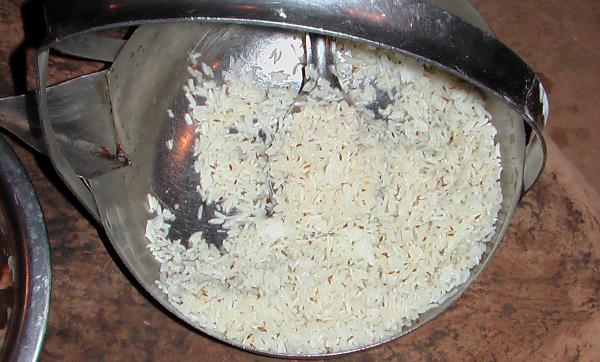 Gud and Sugar                                          Rice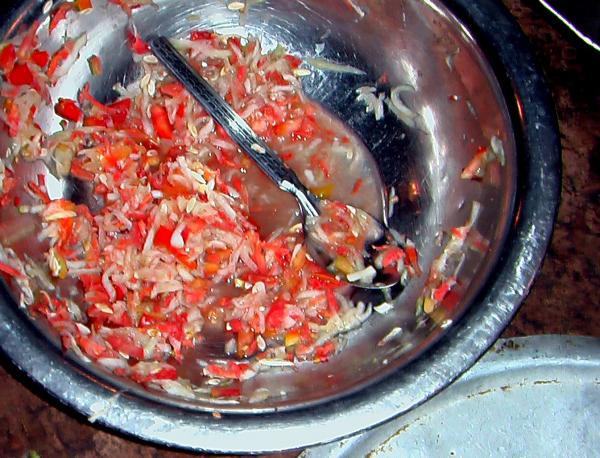 Roasted Papad                                          Salad
Families sit on the floor and enjoy their meal while they are served by the locals wearing traditional Rajasthani costume.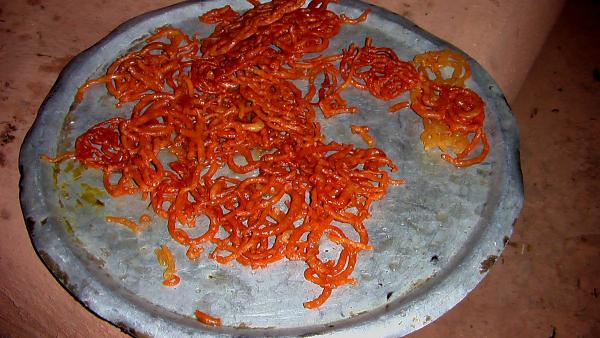 Jalebi                                                      Rasgulla
Thats me wearing a traditional 'Saafa'
I've been in Rajasthan before, but this was my first experience with traditional Rajasthani cuisine. I must say, I was immensely satisfied (satiated actually) by the delicious food and the hospitality of the people at Aapni Dhaani. For a mere 200 Rs. (the entrance ticket fee), the experience was quite outstanding.

This sounds wonderful! There is a place outside Delhi where it is similiar in that you sit on the floor, veg food only is served, amazing place. I can't recall the name of the place. There are demonstrations of various things. I was the only non-Indian there-not a tourist spot. Shanti/Mary-Anne
Posted on:
16 April 2008 - 6:16pm

This is all real yumm..Rajashthan culture is sure one that is rich and lively and the food here looks appetising. Looking forward to more on your Rajasthan trip.
Posted on:
16 April 2008 - 10:00pm

One more great blog about Rajasthani food style. Especially sabji and pattal are interesting features. Thanks for sharing.
Posted on:
17 April 2008 - 6:35am

I love eating from a pattal. Whenever I attended functions in the villages, thats the way we were served. We used to sit on a small bundle of 'puaal' (hay), eat from a 'pattal' (plate made from dry leaves) and drink water from a 'chukka/kullad/kulhar' (earthen cup) while people served from 'baaltis' (buckets).
Posted on:
17 April 2008 - 2:43pm
Really, A maot informative blog about Rajsthani food & culture. I love Daal Bati Choorma, and here I miss it. The pic. are mouth watering
Posted on:
17 April 2008 - 4:17pm

Wow....I bet you had a great time savoring Rajasthani food and their hospitality.
Posted on:
22 April 2008 - 12:14am

They were very sweet...very paasionate about showcasing their culture...constantly letting us in on trivia on their dances, their dresses, their food and the way its meant to be eaten.
Posted on:
27 April 2008 - 12:47pm

yuvrajpunjabi_81 says :
my mouth is watering now. I would love 2 explore such place where the is not only delicious although, it is also served in its own tradition. Nice 2 see this. Thanx A Lot
Posted on:
4 May 2008 - 1:43pm