»

Blogs

»

Funny

»

Rabri & Her 3 Sweet Sisters
Rabri & her 3 sweet sisters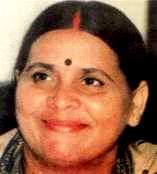 Rabri (L) and Rabri (R)
Pictures from rulers.org and flonnet.com
India is a country with diversity. We have diverse religions, diverse castes, diverse cultures and diverse traditions that are followed by diverse people with diverse names.
Newborns are often named after historical figures (Ashok, Akbar, Shahjahan, Mumtaz…very few go for Aurangzeb – for obvious reasons), mythological characters (Ram, Lakshman, Sita, Arjun…again, no one touches Ravan, Kekai or Kans), modern-day heroes/celebrities (Kapil Dev, Sania Mirza, Shah Rukh Khan…yes the full name. Who bothers to retain the family surname?) We have people who got their names from colours (Laal, Hariyar), trees/fruits (Jamun, Imli), flowers (Champa, Chameli, Gulabo), rivers (Narmada, Cauvery, Raavi), mountains (Kailash, Himalay), days of the week (Som, Mangal – there was one guy named 'Buddhu' coz he was born on Budhwaar/ Wednesday) and even furniture (I've actually heard of Kursi!). Funnily, till I was about 5, I thought I was named after a petrol pump – Vikas Petrol Pump! Dad then told me that I got my name from a family friend who owned that petrol pump.
We haven't skipped food items either…though we seem to prefer sweets or desserts to any of the spicy stuff, with an occasional exception - there's an Achariya (Pickle) Devi in my village. These names are given usually as nick names for the inherent 'sweet' connotation that they carry, the most common being Laddu – (even Bollywood star Hrithik Roshan was 'Laddu' in K3G). There's also Imarti, Cham Cham, Burfi, Rasmalai…
The only woman (former) chief minister of Bihar gets her name from a milk based north Indian dessert called Rabri. Incidentally, her siblings too have similar 'sweet' names – Rasgulla, Jalebiya and Panwa (paan). I first thought that these were probably their favourite sweets when they were growing up…or more logically, they could be their mother's preferred desserts. I was obviously amused when I discovered that the four sisters were named after the first thing that their mother ate immediately after delivering them! Thank god, my mother didn't follow this unique 'method', else I'd be called Doodh Kumar (mom had milk the first thing)!

Good read vikas. What imagination!!Guess the family didn't have much to do with creativity or does it just go to show a strong sweet tooth. Thank god she made it a point to have a different sweet each time or else her love for a particular sweet would have had her kids and her too into a lot of trouble with names. :)
Posted on:
30 June 2008 - 6:47am

Thanks...and nice one! Good for her she ate a different sweet each time! I wish she'd had Kaju Katli after her youngest daughter's birth. That'd be a killer of a name for a chief minister!
Posted on:
30 June 2008 - 8:21am