»

Blogs

»

Occasion

»

Quick And Easy Ideas To Prepare A Chocolate Yule Log Cake
Quick and Easy Ideas to Prepare a Chocolate Yule Log Cake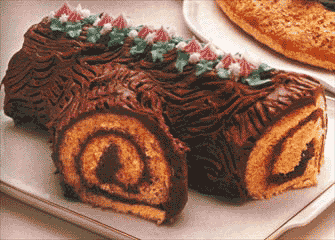 The Yule celebration is incomplete without a Yule log cake. Every year you might celebrate the festival with market brought Yule Log cake, but this year you can prepare something on your own. Here are some quick and easy ideas to prepare Yule Log cake for celebrating Yule.
Classic Yule Log

: You can kick off the Christmas celebrations by serving this festive holiday cake. You will need handful of snowmen candy and red hard candies for decorating the cake. Other than that you will need cake flour, unsweetened cocoa powder, salt, baking powder, eggs, sugar, and milk to prepare the body of a cake. And whipped cream, heavy whipping cream, semi-sweet chocolate, butter and confectioners' sugar to prepare the icing. Green food coloring, marzipan, and confectioners' sugar should be used for preparing the garnish. You may devise several methods of Yule log preparation, but nothing can pace up with the magic created by this unique Yule Log recipe.

Chocolate Decadence Yule Log

: This rich holiday recipe simply amazes you with its enticing taste. Going by the name it will make you feel absolutely decadent. You can simply make it jelly roll style and mould it to look like an original log. For preparing a cake you will need all-purpose flour, salt, baking powder, eggs, white sugar, squares of unsweetened sugar, coffee-flavored liquor, baking soda, confectioners' sugar, and white sugar. For preparing the filling and dusting you will require cream cheese, semisweet baking chocolate, vanilla extract, confectioners' sugar and coffee flavored liquor. Decorate it as a center piece on a Christmas dinner table or during the Yule day celebration.

Easy French Yule Log

: The French are known for their fondness for food that exude richness. If you come to France during the winter months, you will find many people sinking their teeth into something "classic" such as a Yule log. There are many who prefer to have savory Yule logs known as bûche de Noëls, but more precisely a sweet Yule Log might use Genoise cake, Ice cream and chestnut puree. You will require eggs, vanilla and cake flour to prepare classic and easy French Yule log. You can perhaps fold in butter cream at the ends to enhance its Yule log appeal.

Chocolate Almond Yule Log: You can serve it to all those who possess the energy to face the long winter day sahead. This rich chocolate almond treat will surely delight a bright-eyed youngster awaiting his turn to taste something unique. You can easily whip out a chocolate almond Yule log with the help of water, granulated sugar, eggs, cream of tartar, vanilla extract, almond extract, salt, almonds, all-purpose flour, confectioners' sugar, almond-cherry flavored liquor, chocolate frosting, cinnamon candies, blanched almonds, and green glaze cherries. You can perhaps cook the Yule Log beforehand and freeze it without the filling.
Image courtesy: herdaily.com