»

Blogs

»

Facts

»

Prosciutto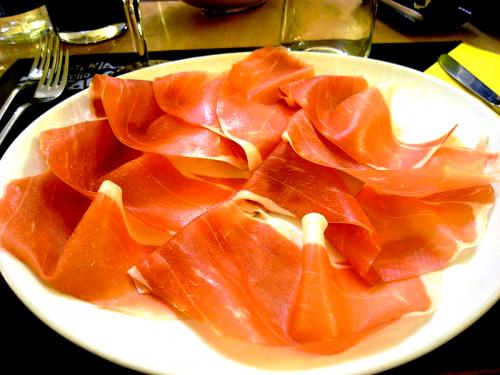 Prosciutto Italian for "ham", Prosciutto is a term broadly used to describe a ham that has ben seasoned, salt-cured and air-dried. The meat is pressed, which produces a firm, dense texture. Italy's parma ham is the true prosciutto, although others are now made in the United States. Italian Prosciutto are designated Prosciutto cooto, which is cooked, and Prosciutto crudo, which is raw, because of it's curing, ready to eat. This type of Italian ham is also labeled according to it's city or region of origin, for example Prosciutto di parma and Prosciutto di SanDaniele. Prosciutto is available in gourmet and Italian markets and some supermarkets. It's usually in transparently thin slices. Prosciutto is best eaten as is a classics first course when served with melon or figs. It can be added at the last minutes to cooked foods such as pastas or vegetables. Prolonged cooking will toughen it.
Image Credit:ifood.tv

My favourite dried meat of this type is the "Procuit" of he former Yugoslavia. The texture is drier and is not "stringy". Serrano, Spanish style is also very nice. Procuit is a great snack with drinks. The very best I have ever eaten is from Montengro, or should I say in Montenegro as it is not exported to the US. The Montenegrin region of Katunska Nahija, with the villages Cevo, Njegusi, and Tresnjevo, is well-known for its traditional production of ham and dried meat, and also cheese called Kajmak. Kajmak is a white cheese. My favourite with Kajmak is lepinja sa kajmakom, but alas I can not find the true lapinja recipe. Of course I do not have the stone oven required for baking this amazing chewey flat bread. Lapinja is often eaten with cevapcici (finger sausages of lamb & beef or lamb/beef/pork).
Posted on:
1 October 2007 - 12:22pm

u should try foccasia with procuitto
Posted on:
1 October 2007 - 1:19pm