»

Blogs

»

News

»

Pippa Middleton Learnt Cooking At A Local Pub
Pippa Middleton Learnt Cooking At A Local Pub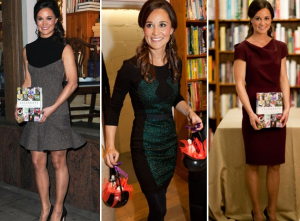 Whatever she does or says makes good copy to read. Pity her maiden publishing venture, 'Celebrate', did not meet the same expectations. As a result, the royal sister-in-law, Pippa Middleton is left defending herself with tidbits from her student life.
In a latest attempt to salvage some of her reputation after her book met less-than-glowing reviews, Pippa has revealed that she learned to cook during her stint with a local gastro-pub during her gap year in college before heading off to Edinburgh University. She has highlighted her culinary expertise while insisting that she is a 'real foodie.' Pippa says that she worked as a kitchen assistant at a Berkshire pub for some months, which inspired her to take up party planning as a career.
While showing off some more, Pippa said that for her last dinner party, she included slow-braised pig's cheeks on the menu. She also enlists, among her other qualifications, a month-long cookery course at 'The Grange' Cookery school in Somerset.
As for being a foodie or not, Pippa pitches in with the little-known childhood fact that she can eat everything, right from kidneys, to oysters and liver to mussels.
Well, Pippa doesn't really need to worry that much. After all, despite such damaging reviews, her book is on its way to become a Christmas bestseller!
Other Articles You May Like To Read:
1. Royal Sister-In-Law Cooks Bacon Butties
2. Pippa Middleton's Valentine's Day Plans
3. Pippa Middleton Moves Beyond Her Royal Bro-In-Law And Her Bottom
Image Courtesy: macsmagazine