»

Blogs

»

Parsley Substitutes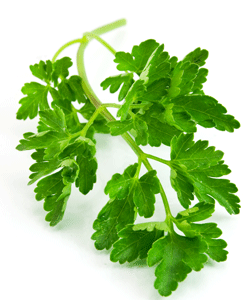 Middle Eastern, European, or American, these tiny leaves called parsley have been an integral part of all these cuisines. And I'm sure you love to scatter this herb on your soups, add them to your sauces and curries but what if you realize that you are out of Parsley while cooking for your family? Do not worry; you do not have to run to the super market to fetch some, read some handy Parsley substitutes that you can put to use in these situations.
Parsley For Garnish
If you were using the herb to add a little dash of color to your dish then you have many choices.
Thyme: If it is for that streak of green that the herb adds to your otherwise plain dish, try some thyme. You can easily substitute parsley with thyme for garnish.
Rosemary: This can be another very good alternative to add a lot of appeal to your dish in case you were to use parsley for garnish and ran out of it.
Chives: Another good option to replace Parsley as a garnish can be Chives. Just add some to your dishes and get some variation too.
Parsley For Taste
If Parsley was one of the main ingredients to add flavor to your dish, then try these Parsley Substitutes,
1 Dried Parsley : If you do not have fresh parsley handy, you can may be reach out that jar of dried parsley kept in the upper most shelf of your kitchen and add some to the dish. Add 1 teaspoon dried parsley for 1 tablespoon fresh parsley and the results will be satisfactory.
2 Italian /Curly Parsley: Both these varieties can be a substitute for each other. Though the Italian Parsley is more flavorsome than the curly leaf variety, you can still go ahead and use them as a substitute for each other in emergencies.
3 Chervil: This one herb can be added when parsley is missing. Though each herb has its own distinct flavor, adding another one to the recipe will definitely fill the void for the original.
4 Cilantro: Though, the tastes are quite different from one another, cilantro can be one of the many options to replace the herb.
5 Basil or Celery: If you were to use Cilantro for a sauce, you may want to substitute the missing herb with the other available options of basil and celery. These herbs won't let you feel that your sauce has a missing ingredient.
Hope these Cilantro substitutes prove useful if ever you are out of the herb. Do try them out and share your experiences .
Image Courtesy: homegrowngainesville.wordpress.com