»

Blogs

»

Facts

»

All About Paella
Paella is a wonderful tasting meal in a pan
In all countries touched by Spain during history the is a variety of Paella. The Cubans make a lovely paella.
Paella is a fun meal to serve to family and friends. Paella is very easy to make. You should use a paella pan, but a wok or kadai would even work I guess. A paella pan is a large round shallow pan that allows the rice to cook properly and evenly with an abundance of seafood, chicken, sausages, peppers, and peas. However, there are as many style of paella as the imagination of cooks! I have eaten rabbit, duck, wild boar as well as a plethora of shellfish in paella, and all have been wonderful.
The key to a good paella is using bomba rice, a short grain Spanish rice that absorbs 3 times the normal amount of liquid. The other key is use saffran-REAL saffran.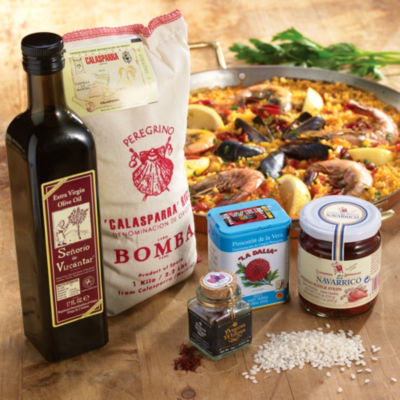 I use smoked Spanish paprika that gives a rich smokey flavour to the paella.
Group of saffron plants
Saffron threads after harvest
Approximately 150000 flowers are needed for one kilogram of dried saffron; typically, one would need 2000 m2 field area per kg harvest. Less expensive qualities include also the yellow stamina (male sexual organ), which do not have any taste of their own.
Adding lobster makes for a Rolls Royce Paella
When preparing a paella the "sofrito" or base of the recipe consists of onion, garlic, saffron threads and some sweet paprika. You gently fry the onion in olive oil until soft and add the garlic. Cook for a couple more minutes (don't let the garlic burn!) and then add Paella rice (Bomba) allowing about 60 grams per person. Coat the rice with the oil, add the saffron and paprika and enough hot chicken stock to cover. Simmer for about 30 minutes. I cover the pan with some foil towards the end of the cooking period (the Spanish use newspaper after the heat has been turned off).
To this basic recipe I add chicken on the bone (that has been browned in oil) at the point when the rice goes in. Fish and shell fish are added at later stages. Garnish with strips of roasted or fried red pepper.
In this paella which is a typical valencian paella (chicken, rabbit, vegetables and snails)
Traditonal Spanish paella made for the village
I use Spanish smoked paprika. Sometimes I add fres or frozen peas for colour and exture.
Here are some tips:
1) The rice that they use in Spain is far superior - the great Valencian short-grain rice, Bomba, creates a stellar, chewy texture. The stuff in American restaurants quickly turns to mush. Don't use long grain rice ever to make a paella.
2) The rice in American pot paellas is usually wet, soupy--not the way it's 'sposed to be! A true paella isn't exactly dry, either--it's not a fluffy pilaf--but the rice, every grain separate, has a kind of oily film that's very seductive in the mouth.

3) The proteins....oy! In American restaurants, as is typically American, the focus is on those proteins. "The diners get very upset," "if the pot isn't stuffed with seafood." The fact that this takes focus away from the rice--like too much meat in a cassoulet takes focus away from the beans--is only part of the problem.

Colourful paella in Arles

Another part is the seafood itself, or the chicken......the former perennially overcooked and mushy, the latter perennially overcooked and dry. Why bother? In Spain, less is more: you get fewer pieces of proteins, but they are properly cooked and delicious. And they let the rice be the star.

Paella Festival hosted in El Tablero de Maspalomas where everybody from the village, and outside of the village, was invited to enjoy such a wonderful event. Really nice and very tasty ! This is the view of the paella in its full 'glamour'

Don't eat shellfish? Try a Paella de boquerones y espinacas (tiny smelt fish)

Paella in Vaslencia

4) In fact, they lend their glory to the rice--for in a perfectly cooked Spanish paella, the rice has absorbed the juices of the proteins, emboldening the flavor of the rice. When you get a seafood paella in Valencia--the rice is proud, oily, bursting with crustacean/mollusk flavor. The nature of Bomba facilitates this.....because it opens out when you cook it, absorbing the flavorful liquid around it.

Paella is very popular in the South of France. Here in the city of Arles on the day of the bullfights you will find paella everywhere.

5) If you're in Spain, and the gods are smiling, you may have a chance to taste a traditionally cooked paella--which is to say, in a wide, open, uncovered pan, cooked over a smoky wood fire. The smoky flavor that creeps into the dish is paella's crowning glory.

Vegan Paella!

Inspired by "the Minimalist" (Mark Bittman). Definitely something to try , especially if you can get some farm fresh tomatoes. And as is, the recipe is vegan as well!

Paella With Tomatoes

Time: 30 minutes

3 1/2 cups stock or water
1 1/2 pounds ripe tomatoes, cored and cut into thick wedges
Salt and freshly ground black pepper
1/4 cup extra virgin olive oil
1 medium onion, minced
1 tablespoon minced garlic
1 tablespoon tomato paste
Large pinch saffron threads (optional)
2 teaspoons Spanish pimentón (smoked paprika), or other paprika
2 cups Spanish or other short-grain rice
Minced parsley for garnish.

1. Preheat oven to 450 degrees. Warm stock or water in a saucepan. Put tomatoes in a medium bowl, sprinkle with salt and pepper, and drizzle them with 1 tablespoon olive oil. Toss to coat.

2. Put remaining oil in a 10- or 12-inch ovenproof skillet over medium-high heat. Add onion and garlic, sprinkle with salt and pepper, and cook, stirring occasionally, until vegetables soften, 3 to 5 minutes. Stir in tomato paste, saffron if you are using it, and paprika and cook for a minute more. Add rice and cook, stirring occasionally, until it is shiny, another minute or two. Add liquid and stir until just combined.

3. Put tomato wedges on top of rice and drizzle with juices that accumulated in bottom of bowl. Put pan in oven and roast, undisturbed, for 15 minutes. Check to see if rice is dry and just tender. If not, return pan to oven for another 5 minutes. If rice looks too dry but still is not quite done, add a small amount of stock or water (or wine). When rice is ready, turn off oven and let pan sit for 5 to 15 minutes.

4. Remove pan from oven and sprinkle with parsley. If you like, put pan over high heat for a few minutes to develop a bit of a bottom crust before serving.

Yield: 4 to 6 servings.
So....what can you do about it, short of booking your flight on Iberia? Make paella at home, I say......starting with a purchase of a proper paella pan.

Great Pictures, I love Paella The Tortilla Guy
Posted on:
17 February 2008 - 10:40am

Very informative blog...
Posted on:
17 February 2008 - 4:26pm

Paella ala Cubano, ala Chile, ala Argentina, and so on are all wonderful. I wonder if the Spanish tagged along with the Portugese to Goa and there is a Goa Paella? I know there is a Goa sausage sort of a chorizo. I want that recipe so much! I love to make sausage. Found a Goan Paella ecipe-sounds wonderful! http://www.ifood.tv/recipe/goan_paella Shanti/Mary-Anne
Posted on:
17 February 2008 - 10:07pm

Wonderful pictures. Very informative Blog.
Posted on:
20 February 2008 - 1:14am

shanti your Paella blog is so nice and informative and pictures are delicious... Foodlover Sarah
Posted on:
20 February 2008 - 2:39am

Thank you I encourage everyone to give paella a try for a family get together-it is a fun meal. Paella creates a party! Shanti/Mary-Anne
Posted on:
20 February 2008 - 1:10pm

I fell in love with paella when I was 18 and visited Spain for the first timre. It has become a favourite of our family over the years. I always use excellent quality real saffron disolved in hot water then added. I highly recommend Spanish Paprika. I love the smoked paprika both hot and sweet, actually I usually use 50/50 of each. I buy it by the ound tin as our children shop in mom's pantry. LOL Our daughter's mil lives with them and she was a top chef in the former Yugo and uses a lot of paprika. She was accustomed to Hungarian paprika but also delights in the Spanish paprikash for Pasulj, Punjene paprikash, Szerb Bableves and sometimes Đuveč. BTW we are neighbours! Shanti/Mary-Anne
Posted on:
11 April 2008 - 12:20am

mattlowe says :
Looks great . . . PAELLAPROFESSOR.BLOGSPOT.COM
Posted on:
19 February 2009 - 12:16pm

Lovely blog Shantihh and all the wonderful pics make it so very attractive. Very informative indeed.
Posted on:
19 February 2009 - 11:18pm

Anonymous says :
Excellent! I buy the best Paella ingredients at the best prices at rapososgourmet.com or check them on Amazon on the gourmet section.
Posted on:
29 February 2012 - 1:07pm