»

Blogs

»

Facts

»

Yummy Chocolate-Marshmallows -Graham Crackers Day
Yummy Chocolate-Marshmallows -Graham Crackers Day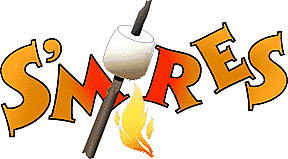 Get your camp fire stoked up because it's National S'mores Day here in the grand ole USA (if you're not in the US please don't be afraid to join in the fun too). S'mores stands for 'Some More as in Gimme-Some-More.' Who would have thought that toasting a marshmallow and then sticking it between two graham crackers with a piece of plain chocolate could be so darned good - I would. They're each good by themselves so why wouldn't they taste better all together? Anyhow - these are really easy to make even if you don't have a camp fire - take a sheet of foil and build them - wrap them up and stick them in the oven for a few minutes until they're all nice and gooey... You can also do them in the micro if you have to...
Check out the following:-
Some S'mores Hisotry And information
A heap load of S'mores recipes
Image Credit- geocities

In the word of my Friend CookingMyWay YUMMERS!!! The Tortilla Guy
Posted on:
10 August 2007 - 11:47am

Videos coming as soon as I get back home... Chocolate tortilla - marshmallows - graham cracker crumbles - wrapped baked until gooey and enjoyed...
Posted on:
10 August 2007 - 12:07pm