»

Blogs

»

Facts

»

October - National Pizza Month Celebrates America's Obsession With Pizza
October - National Pizza Month Celebrates America's Obsession With Pizza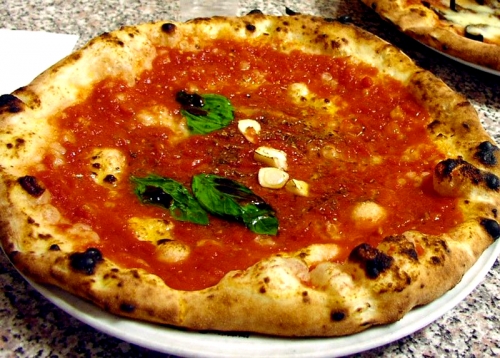 October is celebrated as the National Pizza Month and therefore, it is the right time to discuss America's obsession with this fast food, being served throughout the country in mind-boggling varieties. But before we sing paens in praise of this delicious fast food, which has also come under a lot of attack from public health advocates, let us savor these fun facts first:
October is being celebrated as the National Pizza Month since 1984.
Americans gobble up around 350 slices of pizza each second, or about 100 acres per day.
Pizza industry is worth more than $30 billion per year.
In the U.S., there are more than 60,000 pizza parlors.

Every year, close to 3 billion pizzas are sold throughout America.

American children ages 3-11 prefer to eat pizza instead of their usual lunch or dinner, according to a Gallup poll.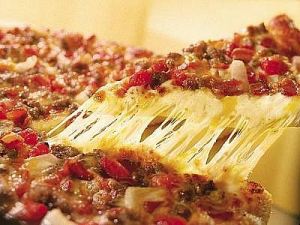 Some of the popular pizza toppings in America are mushrooms, extra cheese, sausage, green pepper, onion, and anchovies. However, more than these basic pizza toppings, the gourmet pizza toppings are making waves around the world. The gourmet pizza toppings, which are rapidly becoming popular, are chicken, artichoke hearts, duck, oysters, dandelions, crayfish, cajun shrimp, eggplant, sprouts, venison, Canadian-style Bacon, and tuna.
Whether it is Pan, thin crust, Chicago deep dish, Sicilian, or New York style, Pizza is America's favorite fast food and at the rate of 350 slices a second, we eat 23 lbs of it in a year. To celebrate America's saucy love affair with pizza, October has been named the National Pizza Month. This obsession is so well-recorded and recognized in the annals of world history that the Guinness World Records has also acknowledged it by declaring the following American claims as part of Pizza-related Guinness world records.
Largest Pizza
This one's available on the menus of the Big Mama's and Papa's Pizzeri in Los Angeles, California, USA. This enormous Pizza is 1.37 m wide (4 ft 6 in) and is retailed at a whopping $ 199.99 plust tax. This mammoth pizza is enough to feed close to 100 people. What's more! you can order it for home delivery, provided you give the pizzeria a day's notice.
Largest pizza base spun in 2 minutes
This record lies with Tony Gemignani, who spun 500 g (17.6 oz) of dough into a pizza base measuring 84.33 cm (33.2 in) in flat two minutes. Gemignani did so at the Mall of America in Minneapolis, Minnesota, USA on April 20, 2006. This feat was filmed for the Food Network channel as part of the Guinness World Records Week.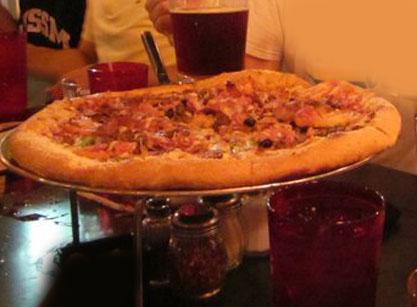 Most expensive pizza
The costliest pizza is being sold at $178 per piece at Gordon Ramsey's Maze Restaurant in London. Before you let you the whistle, let us explain why you have to pay $178 for this pizza. This pizza is a thin crust, wood fire-baked pizza, which is topped with some of the costliest and choicest toppings like onion puree, white truffle paste, fontina cheese, baby mozzarella, pancetta, cep mushrooms, wild mizuna lettuce, and a rare Italian white truffle. The last topping alone costs $2,500 per kg (2lb 3 oz).
We all love pizzas, so, let us take our love for pizza to the next level with the National Pizza Month.
Image Courtesy: ifood.tv, havingalovelytimewriting.wordpress.com