»

Blogs

»

Food Art

»

Mountain Of Bananas
Have you ever considered trekking on a mountain of bananas? My friend here fell in love with just what he climbed on to. He surely has to finish them fast and poor him is soon going to realize that the mountain he trekked up to with so much difficulty just came to an end.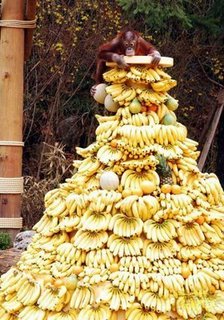 If you thought this was crazy here I have for you a lemur who loves broccoli - planning to turn a vegan?
Pics courtesy:  http://funnycrazyanimals.blogspot.com/

very funny and interesting blog.
Posted on:
15 October 2008 - 2:07pm

Thks Ganesh. Glad u liked it.
Posted on:
15 October 2008 - 11:32pm