»

Blogs

»

Moroccan Salad Dressing Ideas
Moroccan Salad Dressing Ideas
Dainty, delightful, and delicious, Moroccan salad dressings pack a flavorful punch and are totally gratifying! From mild to meaty, these dressings bring to your table a tantalizing array of tastes and textures, sumptuous enough to add a new life to your cold salads and side dishes. Ifood.tv brings you ten sensational Moroccan salad dressing ideas that offer creative spins on comforting, classic Moroccan dressings.
Top 10 Moroccan Salad Dressing Ideas
1. Spiced Lemon Dressing
Inspired by flavors of North Africa, this zesty Moroccan dressing tastes delish when drizzled over and devoured with mixed greens, grain, or Quinoa salads.
The warm flavor of cumin melds beautifully with tangy limes that give an extra kick to your salads and sides. What's more, this zesty vinaigrette totally rocks your fish, veggies or poultry salads!
3. Lemon Parsley Vinaigrette
Lemon parsley vinaigrette is the perfect addition to any salads and makes for a delicious appearance in your feggous and tomato salad or typical Moroccan steamed courgette delicacies.
Satisfy your cravings with this light, bright, emerald-hued vinaigrette that goes well with almost all artichoke and asparagus salads.
5. Light Lemon Vinaigrette
This light, lemony, dairy-free dressing pairs brilliantly with any fruit-and-vegetable salad. The mellow honey just helps to stand up to the sharp flavors of lemons.
6. Black Olive Dressing
Parsley, black olives, and anchovies jazz up the yummy dressing that best complements a chicken and spinach salad.
This creamy, greeny mayo dressing evokes flavors of a zesty Moroccan creamy dressing and with almost little investment of time.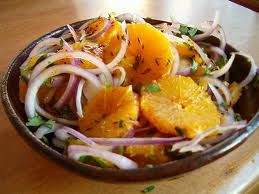 Warm, earthy flavors of lentil totally help to spruce up the taste and texture of your arugula salad. For an added kick of taste, don't forget to add loads of garlic and herbs into it.
9. Lime Cilantro Dressing
This amazing, tangy dressing creates a firework of zingy, zesty flavors inside your mouth no sooner you spoon a ladleful of Moroccan medley salad into your mouth.
10. Yogurt Dressing
A classic Moroccan yogurt dressing usually combines jars of yogurt, loads of cucumbers, herbs, and a dash of oil.
When it comes to salad dressings, there is usually no dearth of options. However, nothing beats the zesty, satisfying flavors of Moroccan salad dressing. Try it to know it!
Image Credits: ifood.tv

Great read!
Posted on:
24 August 2011 - 1:05pm

Anonymous says :
Tangy adn spicy, the lemon dressing is always my favorite...
Posted on:
24 August 2011 - 9:45pm

Anonymous says :
Never tried Moroccan food. Maybe it's time
Posted on:
25 August 2011 - 1:07am
Nice to read about classic Moroccan dressings, Gr8 pics! just cannot resist my urge to taste...
Posted on:
25 August 2011 - 1:48am

Priam says :
Interesting...
Posted on:
25 August 2011 - 2:32am

Anonymous says :
Exotic Moroccan salad dressing are just irrestible..!!
Posted on:
25 August 2011 - 2:59am

Anonymous says :
Salad dressings are the hearty of the salads. They make a salad taste altogether yummy. These Moroccan salad dressing ideas surely will make salads a tasty treat.
Posted on:
25 August 2011 - 5:53am
I have never tried moroccan salad...tempted to try after reading this
Posted on:
25 August 2011 - 8:43am

Anonymous says :
Hey wow these are good salad recipes for Eid! Very nice pics
Posted on:
25 August 2011 - 9:18am

novel recipe idea
Posted on:
25 August 2011 - 12:48pm

Anonymous says :
Good ideas about Moroccan cuisine.... its getting quite famous.......thanks for sharing...
Posted on:
25 August 2011 - 2:17pm
Very nice ideas...will try some for sure
Posted on:
25 August 2011 - 2:57pm

Ron says :
I haven't tasted any of these yet but I can definitely say that the Moroccan Yogurt Dressing is (would be) my favorite :)
Posted on:
25 August 2011 - 3:18pm

Thanks, I will share these ideas with my friends who are observing Ramadan.
Posted on:
25 August 2011 - 3:31pm