»

Blogs

»

News

»

MJ 'Comes Back From Dead' To Revive PepsiCo's Fortune
MJ 'Comes Back From Dead' To Revive PepsiCo's Fortune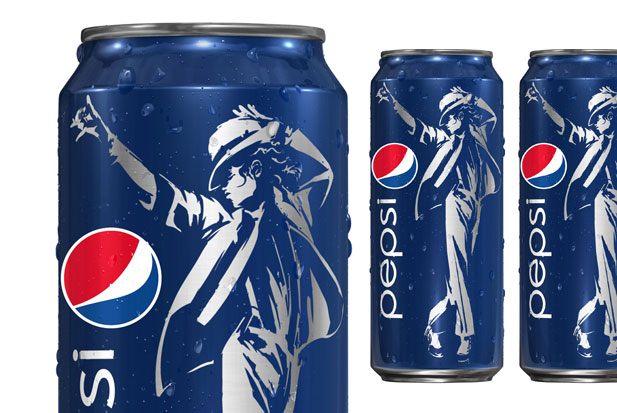 In its bid to get PepsiCo Inc. its market share back from The Coco Cola Co., the King of Pop, Michael Jackson has 'come back from dead.' The company just announced that it had received permission from the MJ Estate to use the late pop star's image for its upcoming worldwide publicity campaign, which will include a TV spot, special edition cans, and much more. It will be almost three decades later that MJ and PepsiCo will partner again for a campaign. Do you remember the iconic TV spot from 1983, which had a much younger singing sensation prancing around selling Pepsi? Here, refresh your memories.
1) Revisiting the Past
Since Jackson was a Pepsi brand ambassador through the 1980s, this posthumous association would definitely invoke a wave of nostalgia for the legion of MJ fans. It was in 1984 that Jackson was caught in a fire while shooting for a Pepsi commercial at Los Angeles' Shrine Auditorium. When the incident took place, MJ didn't at first realize that his hair was on fire. In fact, members of the crew even said that throughout the fire, Michael was so calm that they thought all this was a part of the commercial. The pop icon received third degree burns in the fire and many trace his dependence on prescription drugs to this one incident.
2) Pepsi's Only Hope
It would not be exaggerating to say that for the cola company, this association would be a much-needed breather, especially since Pepsi is struggling with dwindling market share recently. It is this nostalgia as well as the painful memories, which Pepsi hopes to cash in on, while trying to reclaim its number one position in the world beverage market. It has no other choice ever since Pepsi was relegated to third position in the drinks market, after Coke and Diet Coke. Despite having a diverse portfolio of products like Quaker Oats, Tropicana, and Frito-Lay, Pepsi is still dependent on its cola brand to sale it through. On their part, executors of the Jackson's estate, John Branca and John McClain, said, "We are thrilled to bring Michael and Pepsi back together, as they were in 1988, to celebrate the 25th anniversary of the 'Bad' album and tour and to put Michael on one billion Pepsi cans."
3) 'Live For Now' Campaign
It took PepsiCo 10 months to develop this campaign and its baseline is the company's association with the pop culture in America and rest of the world. In fact, with MJ's association, the company intends to amplify upon this pop-connection. Since it is already proven beyond doubt that a pop icon's popularity increases manifold especially after his or her death (think Elvis Presley and the Beatles), Pepsi's choice of a brand ambassador who is no more may not be wrong. After MJ's mysterious death in 2009 at the age of 50, his album sales have received unprecedented boost in sales while dance bars, pubs are playing his songs on loop. In fact, a rehearsal footage of his concert preparation was released four months after his death as the "This Is It" concert film and it generated more than $261 million all over the world.
4) The MJ Merchandise
Among the multi-pronged advertising strategy of Pepsi is the 25th anniversary celebration of MJ's multi-platinum 'Bad' album and tour. Apart from the live events, digital MJ songs for fans to download, and about 1 billion cans bearing the shadow image of MJ is what the company is going to roll out. The company's blue cans, weighing 16-ounce, will have Jackson's silhouette striking one of his many iconic poses. These limited edition cans will be sold first in China, starting May 5, 2012 and in the US later this month. In later 2012, these cans will appear in markets throughout Asia, Europe, and South America. In order to download 'Bad' music, fans will have to scan codes given on these cans and then use them on their phones. PepsiCo has also prepared a TV commercial featuring the pop star, especially for its Chinese market.
5) The Reaction
There are all sorts of reaction to this one-of-a-kind publicity campaign and none of them is against MJ's still strong grasp on the audience, even in his death. According to a news report, pop culture guru Watts Wacker was one of the first people to speak out against PepsiCo's attempt. He said, "This is very macabre and seems totally over-the-top to me. This will be a very polarizing promotion. They'll get lots of buzz, but most of it will be negative." The same report quoted consultant Jonathan Salem Baskin as saying, "It's a stroke of utter and complete stupidity. Can you imagine Whitney Houston being on a can of pop?" However, not everyone is against the move as one image consultant said, "People today remember the young Jackson. A dead Michael Jackson is effective, a live Michael Jackson would not have been because of all that negativity."
Since his death three years ago, he has been paid tributes in foods and drinks but this is one tribute at which MJ must be laughing his 'embarrassing cute laugh' down from the heavens. Nevertheless, PepsiCo's campaign kicks off on Saturday and with it, MJ fans will have a chance to relive their moments with their pop icon. As for MJ, all that can be said is "RIP!"

Image Courtesy: popdust.com
Video Courtesy: youtube.com
Disclaimer: The image copyrights belong to its owner. The usage of the image in this blog is purely for the entertainment purpose. No copyright infringement intended.

Anonymous says :
Had heard that dead men tell no tales but they sure can do promotion!
Posted on:
4 May 2012 - 4:56pm

Find a list professional Bed Bug Control Kits at Pest Mall. Use the same Bed Bug Kits expert bed bug control operators rely on. Control your bed bugs with the best bed bug kits, bed bug kit products on the market.
Posted on:
4 May 2012 - 5:02pm

If you are looking for wholesale Plumbing Supply as well as Discount Plumbing Supplies, Fire Sprinkler Supplies and Fire Protection Supplies, please review our website. If you are also looking for fire sprinkler heads as well as fire sprinkler systems, plumbing supply companies and plumbing fixture supplier, please visit our website for more details. - Glendale Plumbing and Cast Iron Pipe and Fittings
Posted on:
5 May 2012 - 11:29am

Anonymous says :
Ask pepsi about its cans sold in islamic countries that celebrate the dive bombing MURDERS of more than 3,000 Americans on 9/11. They infact produced a can to celebrate the islamic ''victory''.. don't believe it? Go in search of it, it is online and hit headlines (again to celebrate the deaths of more than 3,000) in islamic country news papers. PEPSI IS A WHORE TO THE ALL MIGHTY DOLLAR!!!!!!!!!!!!!!
Posted on:
5 May 2012 - 1:21pm

Halimat Suberu says :
This is by far the best reviving business strategy i've heard of all my life.. I have tears running down my cheeks reading this, cos it's all way very touching for me, i miss you MJ!! And rest in peace even as you live again through pepsico..
Posted on:
5 May 2012 - 7:52pm

For MJ fans, this is the best thing to happen so far. As for the purists among us, nothing could please them so why try?
Posted on:
7 May 2012 - 1:17am