»

Blogs

»

Menu

»

Mexican Wedding Cookies Recipes – Make Them Yours
Mexican Wedding Cookies Recipes – Make Them Yours
After attending my friends wedding and having tasted so many varieties of cookies, I couldn't resist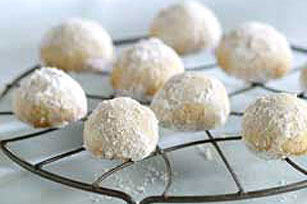 learning these Mexican wedding cookies. Mexican wedding cookies recipes – make them yours – learn them and enjoy the lovely taste of these cookies. Here are a few Mexican wedding cookies ideas just for you!
Recipe 1: Pecan cookies
To make lovely Mexican cookies you basically need some butter, sugar, vanilla, flour and chopped pecans. Just as you do in all baking processes you need to put all the ingredients in required proportions after mixing them well into the preheated oven. Pecans add a special taste to these cookies and make them crunchy. You can give these cookies a lovely crescent shape – you can make the shape with the help of your hands or you can use a small tool also to give the cookies their desired shape. Your cookies will be ready in 40 minutes. Serve them after sprinkling some powdered sugar or crushed chocolates.
Recipe 2: Nutty cookies
Mexican cakes normally have ground nuts in large quantities. These nuts help to make the cookies have a crunchy texture. When you are prepare Mexican cookies, you too can use ground nuts, flour, unsalted butter, sugar powder and some vanilla extract. Once you have mixed the ingredients very well, you will have to make small balls from the dough. This is a fun process and if you are preparing cookies in large numbers, you can involve your children also in it. It is best to prepare bite size balls – once you have made all the balls you can place all of these in the baking tray. When you notice the cookies have become golden brown, it means they are ready to be eaten. Serve them to your guests.
Recipe 3: Nutty butter Mexican wedding cookies:
These are special nutty and buttery cookies which are loved in weddings. Almonds, anise seeds, pecans and ground nuts are all used in the making of these cookies. Sometimes nuts are ground and sometimes they are just chopped into small pieces. All these nuts are well mixed with flour and butter and cut into cookie shapes before placing them in the oven. Since these nutty butter cookies are served at weddings, they are given special shapes. The common shape of these cookies is 'heart' which signified bonding and love of the couple. Other shapes are also given to these cookies such as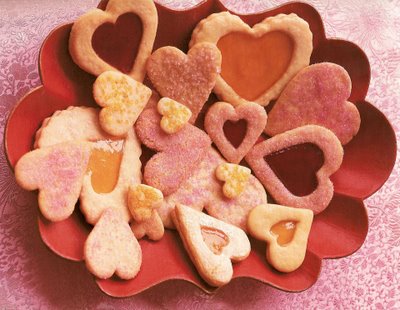 star, round shapes, square and sometimes they are made to look like flowers. Nutty butter cookies are full of nuts – you get a real nutty feeling with each such bite!
Recipe 4: Lard cookies:
If you had the chance to taste lard cookies, you will really love its taste. Lard is not much used in making cookies – but these are very common in Mexican weddings Lard is used in the making of wedding cookies along with jigger wine, anise seeds, cinnamon mixture, eggs, crushed almonds and nuts to give these cookies a lovely authentic Mexican taste. Lard adds a special rich flavor to these cookies along with wine and make this quite different from all other cookies which are served in the weddings. Lard cookies have a lovely aroma which is not found in normal cookies. These cookies are given a heart shape to signify weddings and love between the happy couple. If you haven't yet tasted these lard cookies, its time you try out some of these – I am sure you will desire to have more of it. One is not just enough!!
Image credits: kraftrecipes.com, feedmyworld-sri.blogspot.com, marthamoments.blogspot.com

five boyfriend cookies says :
these cookies were very interesting to make...we had trouble forming them into a spherical shape...soo umm..yeah i doubt the "cresent" shape they suggest won't work...so suck it!! cause ours turned out fan-fricken-tabulous...what now internet!!!! woohooo we are having a mexican fiesta in our class tomorrow and we made them..and all the guys were so impressed with our baking skills that we now (me and this other girl) have 5 boyfriends each!!! woohoo and don't even think about calling us whores!!! suck it internet people...jk jk jk we love you all, and the world is a beautiful place...we need to stop kony and project m must go on so call mike!!! hey what i am supposed to be writing here..oh yeah i'm supposed to help all you losers and idiots who don't know how to bake...remember people 5 boyfriends with these cookies!!!
Posted on:
13 March 2012 - 7:16pm