»

Blogs

»

Occasion

»

Wedding

»

Menhdi" A Part Of Marriage Ceremony".
Menhdi" a part of marriage ceremony".
     Menhdi is known as plant. It used as a herb and cosmetics also.
    In urdu & english also Menhdi called "HINA".
    It is a common plant found most parts of India-Pakistan.
    Menhdi is used in some hurbal medicines as a hurb, other side it used as a cosmetics.It gives colour to hond & feet of ladies and as a hair conditioner also.
                                                    Menhdi is the name of ceremony also,it is the part of a marriage ceremony spl in Indian-Pakistani community.
This ceremony acttualy from Panjab region ( both side).
 In this ceremony the guests and members of both sides ( Bride & Groom) gathered at each other houses with gift for bride & groom for a charming celebration.
Some ceremonies are becomes our cultural symbols. Menhdi ceremony is known as a one of cutural symbol of Pakistan.
     Menhdi celebrated as a main part of marriage ceremony in Pakistan. Its held commonly 1-2 day before the marriage.
                The Menhdi ceremony of LAHORE is the most famous.
                                        There is a variety of dishes & cvusines at the dinner  in Menhdi ceremony.  Variety of sweets and desserts , different type of main dishes made from  meat & chicken & Biryani also. 
                      Mostly guests likes different type of KABABS & BAR-B-Q items spl at this occaision .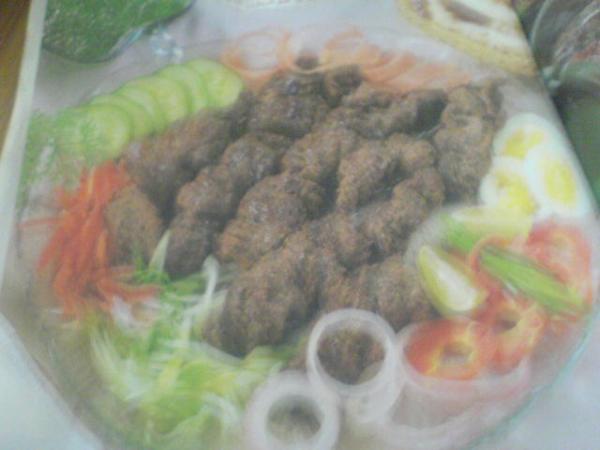 In India ,Henna symbolizes luck and prosperity. Thus, decorating hand and feet by creating beautiful designs out of henna paste is one of the most common tradition on all occasion. As Karwa Chauth is meant for married woman, the significance of henna increases manifold
Posted on:
20 October 2007 - 6:53am
Yes its fact in our subcontinent Hina ( Menhdi) is the symol of luck, every happy occaison mostly wemen used to decorate her hand and feet by Hina paste. In Karachi spl after EID moon sight a huge croude in porlours for Menhdi , and all parlours open till dawn.
Posted on:
20 October 2007 - 4:51pm

Good Blog! As a matter of fact, your blog has made be nostalgic about my Mehendi function, a couple of days before my wedding to Susheel. It was a great fun-filled day with all the women cracking jokes, singing, dancing, teasing the bride-to-be (me ;) ) and of course mouth-watering food. There were a couple of Marathi women, singing some great Bollywood numbers with the Dhol, Tabla and producing a synchronized music with plates and spoons. We also have a tradition where during the Mehendi ceremony, the eunuchs come, dance and remove the 'nazar'/'drishti' (bad omen) off the bride. I love going to Mehendi ceremonies of friends and family before the weddings, mainly to get my hands tattooed with those beautiful intricate designs. Also, when I was in India, every year during the Ashaad Maas/Monsoon season, we would invite a few Muslim ladies (Most Muslim women have an amazing talent for applying Mehendi/Henna) from the Charminar area to apply Mehendi for our friends and family. These days I use Mehendi only to condition my hair ;). I can't wait to go back to India and get my hands tattooed with those amazing designs and rich color!
Posted on:
22 October 2007 - 12:04pm