»

Blogs

»

Funny

»

Meat Art - Amazing Creations
Meat Art - amazing creations
If you thought meat was a delicious ingredient to be cooked in the kitchen and enjoyed at the dinner table, think again. Here is a whole new genre of art and artist who love working with this ingredient. They love using meat to create artworks that are indeed very different. Meet the artists and venture into this absolutely new land of MEAT ART.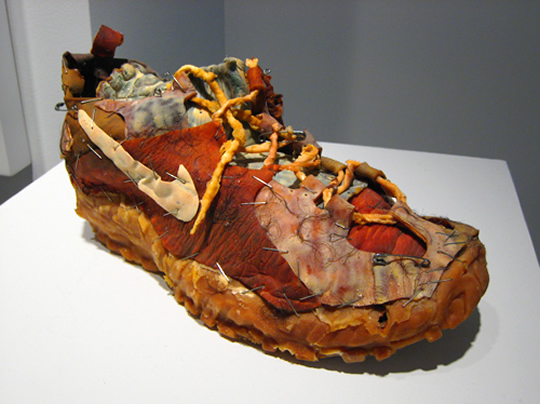 Meet the artists here in this video talking about what inspires them and what meat art is all about.
Pic courtesy: www.eatmedaily.com

Wow! Its quite a creative job.
Posted on:
16 March 2009 - 8:53am

very creative! i love the nike shoe...pretty intricate.
Posted on:
16 March 2009 - 3:48pm

If not for the red and slightly brown shade and specifically with ur mention that these are meat arts, I bet not would have even imagined that those specimens up there are made of meat. All i got to tell is when it comes to creativity, people are lot more crazy. I believe, there should be some chemicals used to preserve these and to not let them stale out soon.
Posted on:
17 March 2009 - 7:19am