»

Blogs

»

News

»

Lay's Introduces 3 New Flavors, Including Sriracha
Lay's Introduces 3 New Flavors, Including Sriracha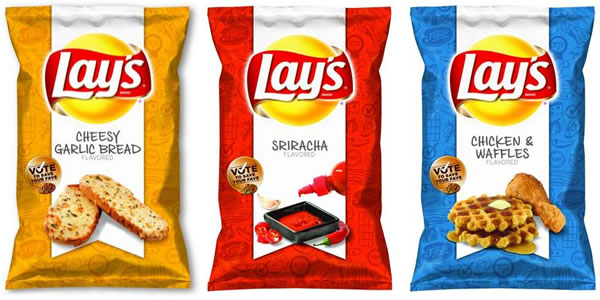 Are you bored of the regular flavors available in Lay's Potato Chips? Well, things are looking up as the company introduced not one, not two, but three new flavors next week. The good news is that the three new flavors will be up for a market test until May, after which, one of these will be decided as the one that will stay on the market shelves.
The three new flavors in Lay's potato chips are - 'Chicken & Waffles,' 'Cheesy Garlic Bread' and 'Sriracha.' The last one has the taste of the kind of hot sauce usually used in cooking Thai dishes.
Now you may feel sad that only one of the three new flavors will stay on but the company has also made it clear that since "we don't know what's going to happen", other two flavors could also remain in stores if all three do equally well.
The company had launched a "Do Us a Flavor" campaign sometime back in which people were invited for suggestions regarding new flavors. The three flavor suggestions were picked up by a panel of chefs as well as flavor experts, who sorted out 3.8 million submissions before short listing three finalists.
If you are a Lay's potato chips fan, you can do so by logging on Lay's Facebook page. Besides, you can text "VOTE" to 24477 or use Twitter with hashtages like (#)SaveChickenWaffles, (#)SaveGarlicBread or (#)SaveSriracha.
Start voting now for your favorite potato chip flavor!!!!
Other Articles You May Like To Read:
1. Celebrate Pizza Pie Day With Tiny Pies
2. KFC Japan Launches "Kentucky Chicken Rice"
3. Taco Bell's "Cool Ranch Doritos Locos Tacos"
Image Courtesy: neatorama