»

Blogs

»

Reviews

»

Top 10 Japanese Cook Books
Top 10 Japanese Cook Books
Cook books on Japanese food are selling like hot cakes due to the continuously growing popularity of Japanese cuisine all over the world. But how do you find a book that serves as a perfect guide for cooking delectable Japanese food when the market is loaded with books that claim your attention? Let's take a look at some of the best cookbooks that are worth a try.
Debra Samuels, the celebrated food writer and best-selling author, adopted Japan as her home country. This book speaks volumes about Debra's experiences of cooking Japanese food and you will find her unreservedly sharing all the secrets and techniques. In the book you will find recipes not just for classics like Miso soup and hand-rolled sushi but also for the not-so-familiar fried pork cutlets or lobster rolls.
This book by Makiko Itoh promises to make preparing your very own bento box meal simple and fun. In the Japanese section you will find classics like chicken Karaage bento or salted salmon bento. The 'not so Japanese' section uses more Western ingredients and adapts them to suit the Bento concept. It is a comprehensive course in cooking delicious and cute looking bento box meals .
The Just Bento Cookbook: Everyday Lunches To Go – In this book Tadashi Ono and Harris Salat seamlessly blend Japanese flavors with the American love for grilling. The result is mouth-watering recipes that can be prepared on live-fire. The recipes are mostly quick and easy to prepare. Ono also makes sure that the instructions are easy to follow and comprehensive in detail.
This book by Elizabeth Andoh is a perfect tribute to one of world's most celebrated cuisines. The book has been written with an emphasis on flavors, techniques and aesthetics of Japanese food combined with a healthful approach towards nutrition.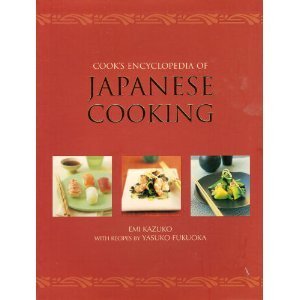 Just as the name suggests, the book is an encyclopedia of Japanese cooking. Apart from delicious recipes, the book also contains wealth of information on ingredients and cookware exclusive to the cuisine.
Other Best Japanese Cook Books
6. The Japanese Kitchen: 250 Recipes in a Traditional Spirit (Non
7. Morimoto: The New Art of Japanese Cooking
8. Quick & Easy Japanese Cookbook
9. Harumi's Japanese Home Cooking: Simple, Elegant Recipes for Contemporary Tastes
10. Japanese Cooking: A Simple Art
Well, now that you know about the most worthy books in the market. No time to waste, happy shopping and cooking!
Image courtesy: amazon.com

Anonymous says :
I'm going to opt for the Bento Book
Posted on:
10 January 2012 - 8:55am
http://3dretailstores.com/ The Benefits of iPad 2 and How to Get Free iPad 2 Do you know the hottest gadget that people find irresistible to purchase these days? This is iPad 2 that comes in a decent interface with a handy tubular shape. This device provides you a full package of entertainment. Since the gadget is made in a small tablet-shape, this makes it portable. For that reason, it is more perfect for you than any heavy gadgets like a laptop. You can bring it to your room, outside your house, or anywhere you want especially when you are doing your business proposals that need an actual research. Surely, it is quite awkward to bring your laptop since you have to hold it carefully. This will just give you a big hassle in doing your task. WithFree iPad 2, you can easily do your task without experiencing too much stress which means that you can do your business proposal in a stress free way. Just get your iPad 2, put it in your bag and simply use it for your task. It allows you to do everything possible with the gadget. The benefits that iPad 2 provide you are truly amazing and exceptional. It is loaded with entertainment applications that you will surely enjoy. It allows you to access internet in easy way. With this, you can get various applications that come in different categories. The innovative gadget allows you to download movies that come in high definition resolution. You can also search for music in just a single moment of time. If you are fond of games, then it is possible for you to install the best games. In addition to that, you can simply manage email address, create pages, chat with your longs distant friends, and other online activities. All these leisure activities will simply be achieved through using the free iPad. Owning a free iPad 2 is a great investment. Although it is quite expensive, the features are also worth to enjoy with. Many people including you might be looking for an iPad 2 for free that could give more improved and highly innovative feature. There are many ways to get free iPad 2. All you have to do is look search for this site. If you are tired of looking for the iPad for free, then don't be hesitant to rely on this site. Why? It is because it will help you to know on how you can win free iPad 2 in just a single moment of time. So, brace yourself now because the process will unveil just for you!
Posted on:
10 January 2012 - 11:36pm
http://greencitron.com/ Katie Holmes poses in a steamy hot pictorial for H. Stern's campaign ad. Basing on this picture, she's showing a lot more skin than the gold jewelry around her neck. The 33 year-old actress is the new face behind jeweller H. Stern. Although the campaign will start in the U.S. this fall, Holmes has been representing the brand through ads in Israel. Katie's hubby, Tom Cruise, has been vocal in expressing his admiration for actress wife. He told the press how madly in love he is of Katie, growing a bit more every single day. He revealed, "It's been an amazing five years because of her." Looking at this sexy ad, we couldn't agree better!
Posted on:
10 January 2012 - 11:36pm