»

Blogs

»

Jamba Juice Menu
Jamba Juice Menu is a delicious, healthy, and satisfying treat in itself and through this menu, the lovers of quality beverages can simply say, "That felt good." Have a look at the drinks and food items offered by Jamba Juice and you will just say "wow."
The Jamba Juice Menu comes in different sections – Category and Special Diet. We bring you all of it in detail.
Category Menu
The category menu is exclusively devoted to various beverages, which will spoil you for choice. Have your pick from among-
Fruit Refreshers
These fruit refreshers are served with coconut water and they come in three electrifying flavors: Purely Pineapple, Strawberry Lemonade and Tropical mango.
Fruit and Veggie Smoothies
Next up is a delightful and healthy option of fruit and vegetable smoothies. Coming in three flavors – apple n greens, berry upbeet, and orange carrot karma – these smoothies can be had during breakfast or lunchtime.
Probiotic Fruit & Yogurt Blends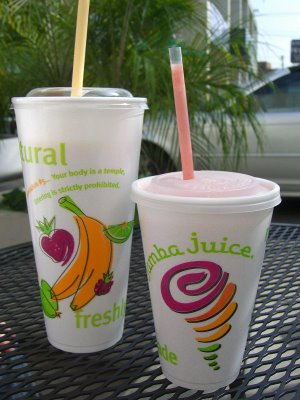 The Jamba Juice Menu gets healthier with these blended beverages, which have fruit, yogurt in a probiotic mix. The owners claim very proudly, "They're (blends) enough to give other healthy drinks an inferiority complex."
Classic Smoothies
Those who are not in favor of change, classic smoothies is an ideal option, which comes in sumptuous flavors like Aloha pineapple, Banana berry, Blackberry bliss, Caribbean passion, and Mango.
Pre-Boosted Smoothies
If you want who want more than just taste in your beverage, pre-boosted smoothie is a good option. The different options available in this category are Acai super-antioxidant, Protein berry workout, Strawberry energizer, and The cold buster.
Creamy Treats
The Jamba Juice options start getting "meatier" with this menu item. The creamy treats are a little deviating from the options so far in that flavors like chocolate moo'd, coffee craze, mocha mojo, and orange dream machine will make you want more.
Fresh Squeezed Juice Shots
There is nothing healthier or tastier than freshly squeezed juice and when this juice comes in shot glasses, the experience is something else.
Organic Hot Blends
This part of the Category Menu builds a new spin on the usual cup of coffee or tea and is made with non-fat milk, 2% milk, or soymilk.
Ideal Meals
The Jamba Juice is not all about drinks, there is a good choice of meals as well, which includes options like: Acai topper, Berry topper, Chunky strawberry topper, and Mango peach topper. Besides, there are wraps, salads, sandwiches as well.
Special Diet Menu
Not all of us like to eat whatever is available on a menu and would like to have some special choices, which are healthy too. So, here you have non-dairy, non-gluten, and vegan options, in this part of the menu.
Now it must be clear to you that the Jamba Juice Menu is not about drinks only but about taste, health and freedom of choice.
Image Courtesy: examiner.com, dealseekingmom.com, fastfood.ocregister.com

Anonymous says :
I want to try the Organic Hot Blends
Posted on:
30 August 2011 - 7:08am

Anonymous says :
So many variety of juices and smoothies....i am saying wow just by seeing....... this will be worth trying....
Posted on:
30 August 2011 - 7:13am
Amazing Juices and smoothies with a special diet menu too !!!
Posted on:
30 August 2011 - 10:45am

yummy! healthy!
Posted on:
30 August 2011 - 11:56am
Where do we get them? In US?
Posted on:
30 August 2011 - 1:39pm

thanks for introducing me to jambaa juice
Posted on:
30 August 2011 - 2:25pm

Anonymous says :
I wish inDia would get a jamba juice
Posted on:
30 August 2011 - 2:26pm

Do we get it in India.
Posted on:
30 August 2011 - 2:43pm
hmmm.. tempting, but i'll pass
Posted on:
30 August 2011 - 4:20pm
Strange name, but sounding refreshing :) I wish I could get it in India as well. Any info??
Posted on:
30 August 2011 - 4:26pm