»

Blogs

»

News

»

Influenza Sorbet Shots For $12 To Fight Flu
Influenza Sorbet Shots For $12 To Fight Flu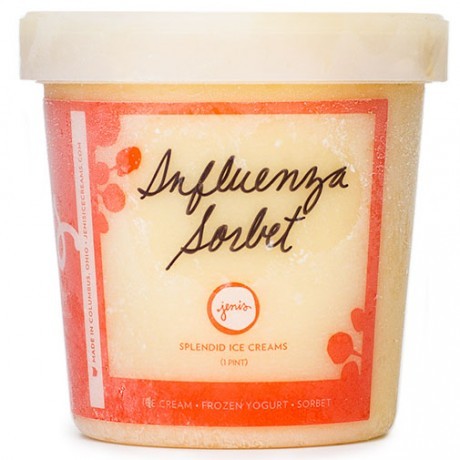 It is not what you think it is. This is not some vaccine we are talking about but a frozen dessert, infused with booze, that Jeni's Splendid Ice Cream has in store for you if you are suffering from flu. Well, the Ohio-based company has launched "Influenza Sorbet", which is apparently a booze-filled dessert to help relieve your flu symptoms. And it costs $12.
Since the flu season started early this year, it has been pretty nasty out there for people who got caught up in its wake. Jeni's spokesman Ryan Morgan assures that the influenza sorbet has been the company's best-selling flavor so far in 2013. The dessert is made with honey, orange juice, ginger, cayenne pepper, lemon juice, and Maker's Mark bourbon (just a whiff of it) to keep it suitable for the kids as well.
One newspaper described the taste of the dessert as "a whiskey sour with a spicy kick." The company's website describes the dessert as – "This is our flu-season fix. It's proven to clear nasal passages, ease a sore throat, and soothe the body." Although, the flavor has been a staple presence on the Jeni's menu ever since 2004 but it is only lately that things have heated up.
If you are suffering from flu and want to try out this sorbet, you don't need to consult your doctor, because this is not a prescribed cure for flu but more like a home remedy like chicken soup. As for orders, Jeni's outlets in Cleveland, Columbus and Nashville will be selling it throughout winter and you can order it online as well.
Other Articles You May Like To Read:
2. Little Baby's Pizza-Flavored Ice Cream Is Here
3. Unique Ice Cream Flavors To Hit Our Senses
Image Courtesy: jenis