»

Blogs

»

News

»

Contests

»

Hungry Diner Polishes Off 6,000-Calories In 26 Minutes
Hungry Diner Polishes Off 6,000-Calories In 26 Minutes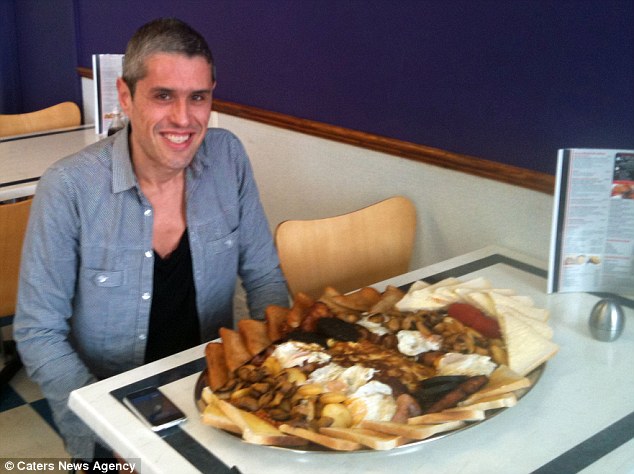 For Robert Pinto, it was the hardest challenge ever but that did not deter him from polishing off a 6,000-calorie breakfast in 26 minutes. The mammoth meal was a part of the Kidz Breakfast Culinary Challenge, for which Pinto traveled 125 miles and, then, ate the fry-up in less than an hour. However, the highlight of the whole challenge was what the competitive eater said after he finished the 4kg breakfast. He said, "I don't even like breakfast, I just do it for a laugh." Yeah, sure! One good laugh, that would be.
1) 'Heart Attack on A Plate'
Robert finished the 9lb Kidz Breakfast, which is a jumbo meal consisting of 12 sausages, six eggs, 12 bacon rashers, four slices of black pudding, four bread-butter slices, four toasts, four fried bread slices, beans, mushrooms, tomatoes, potatoes, and, believe it or not, an eight-egg cheese and potato omelet. Gut-busting at $15, isn't it? This is what the Jesters Diner in Southtown, Great Yarmouth, offers to anyone who can finish the breakfast within 60 minutes.
2) Monster Meal With Mr. Pinto
If you thought that Robert had trouble polishing off this breakfast the size of a newborn baby, you have another think coming. He, who traveled 125 miles from his Rutland home to finish off this fry-up, is already an acclaimed breakfast meal buster. He is the Guinness World Record holder for finishing another big breakfast, at Mario's Café, in Bolton, which he did in November 2011 and he took only 8 minutes and 46 seconds to finish it. In October 2011, he also managed to demolish another monster breakfast at the Hungry Hossee, in Corby, Northamptonshire, in under 13 minutes.
3) The Toughest Challenge
Nevertheless, this does not mean that Robert did it all too easily. In fact, he admits, "It was a heart attack on a plate, to be honest, it was pretty difficult especially the fried bread which was literally covered in fat." However, he realized that he could do it. He worked with a strategy, which was to "use the bread to make little sandwiches filled with the other ingredients and that helps it to go down better." He even went for a five-mile run, went to the gym and swam after having that breakfast, all done to keep himself healthy. And for the rest of the week, he had nothing but fruits and vegetables.
4) A Little Charity on the Side
Although, he won the meal free but the "breakfast-hero" has decided to donate the cost of the meal, which is $15, to a local heart charity. Good news for someone somewhere, that is. As for himself, Robert says, he employs all the tricks to keep himself healthy after tackling such monster meals. He says, "If you eat it in the right order and have a system you can tackle it." His appearance is proof enough, we would say.
5) Death in a Breakfast?
However, not everyone is happy with the feat that Robert managed to pull through. Health experts have already been demanding that the breakfast challenge be removed from the menu because if someone, with a heart condition, ate the whole 6,000-calorie breakfast, in one sitting, that person could die. Ellie Hambling, of HeartCare Cardiac Support Group, says, "It would absolutely ruin in your heart. It's a no-goer I'm afraid." Professor David Haslam, who works with the National Obesity Forum, also cautioned that eating such a huge breakfast would be "dangerous" and "profoundly wrong."
Meanwhile, the 39-year-old Robert, who weighs 70kg at 6ft 1ins height, is looking for new eating challenges. And to do that he takes inspiration from television shows such as Man v. Food, which, he says, "tap into male competitive nature." With Robert's feat, it seems that the US competitive eating business is going great guns, what with huge prizes and sponsorship getting in too. Only last week, right before the Super Bowl weekend, a Japanese 'Houdini' polished off 337 chicken wings in under half an hour to win the 20th Annual Wing Bowl contest. Here's to more eating and more winning!
Image Courtesy: news2.onlinenigeria.com
Disclaimer: The image copyrights belong to its owner. The usage of the image in this blog is purely for the entertainment purpose. No copyright infringement intended.