»

Blogs

»

How To Use Soy Flour In Daily Cooking
How To Use Soy Flour In Daily Cooking
Soy flour is prepared from roasted soybeans which are then grounded in to a fine powder. We can use soy flour in baked products like breads, crackers, cakes, brownies, cookies and many more. The faintly nutty flavor of the soy flour will give your baked goods a special flavor and the nutrients in soy flour will increase the nutritive value of your food as well.
Using soy flour is beneficial for those who are facing problems with gluten as soy flour is gluten free, unlike white flour. It is good to use soy flour along with other gluten free flours such as corn flour.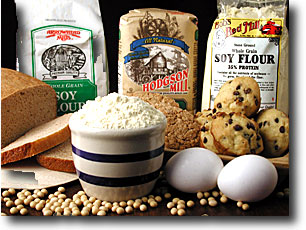 Use soy flour by replacing a cup of white flour with 2 tablespoons of the soy flour in the 1 cup measure and then fill the rest of the cup with wheat flour. This will give you the baking equivalent of 1 cup of regular white flour.
If you don't require a complete gluten free dish then you can add two tablespoons to the bottom of a cup of regular flour to get the added flavor and nutrition that soy flour has.
We cannot use soy flour as a complete replacement for wheat flour in baking as it lacks gluten, the substance which provides structure to baked goods. We can use soy flour, however to replace a quarter of the wheat flour in baked goods.
Use soy flour to prepare puddings, sauces, salad dressings, and dips along with soy milk which also can be easily found in most supermarkets and natural food stores. One can choose unflavored or original soy milk for savory dishes like soups and flavored soy milk for sweet dishes.
The other popular ways of using soy flour is as soy cream cheese, soy yogurt, soy creamer, and soy ice cream. If you're planning to use as textured soy protein (TSP), make sure to soak it for a few minutes in a cup of boiling water before cooking.
Soy flour can be obtained in different forms like low fat, full fat, and defatted, with the defatted having the lowest amount of fat. Defatted and full fat soy flour can be used in baking cookies, bread and other baked products.
Soy flour is rich in fiber content which is very helpful to our digestive system. It is also enriched with vitamin B, calcium, iron, potassium, protein and with other nutrients which are beneficial to our body and essential for good health.
Use soy flour more regularly in your daily cooking to get the benefits of this healthy food. Make sure to keep the opened package of soy flour in an airtight container or in the refrigerator.
Image Courtesy: soyfoods.com

MissD says :
Whoever wrote this apparently doesn't understand the meaning of "gluten free", as whole wheat flour is NOT gluten free! Wheat is the main source of gluten in our diets, whether it is wholegrain or refined is irrelevant. I think the writer may be confusing "healthy" with "gluten free", as whole wheat flour is much better for you than refined flour, being higher in fibre, various nutrients, and has a lower GI value. However, for people who cannot tolerate gluten, it is just as bad as refined flour. This misinfomation could lead to very unpleasant health problems for somebody. If someone needs to cook for a gluten intolerant person, and reads this article, they could end up making their friend very sick.
Posted on:
16 March 2011 - 5:44am
Thanks for the feedback, its the result of wrong research, sorry for that. I have made the necessary changes.
Posted on:
17 March 2011 - 12:24pm