»

Blogs

»

How To Make North Carolina BBQ
How to Make North Carolina BBQ
North Carolina barbeque is amongst the most famous regional cuisines. If you want to know how to make North Carolina BBQ, follow the tutorial. NC BBQ cooks pig meat at very low temperatures. This traditional BBQ style makes very little use of sauce; it rather enhances the flavor of the meat on its own. Making North Carolina BBQ is not very difficult but time consuming.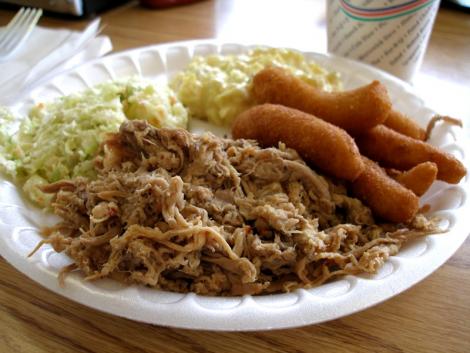 1. Buy 6-10 pounds of pork shoulder roast and clean it thoroughly. Use a skewer or a knife to make deep holes in the meat. Make holes in a way such that each one is at least 1.5 inches apart from the other.
2. Set the oven at 350 degrees F and cook the meat for about 18 hours. When the cooking period of meat is about to come to its end, see if it breaks up easily. In case it does, turn off the oven to remove the meat.
3. Mix vinegar, crushed red peppers, salt, pepper and lemon juice to prepare North Carolina BBQ sauce or you may buy it readymade from the North Carolina BBQ Society.
4. Chop the meat into pieces of the desirable size using a large knife. Spread sauce on its top and mix. Garnish with parsley and serve hot with white wine or North Carolina microbrew.
(image credits: http://gynomite.files.wordpress.com)

MargaritaFind says :
I now live in Venezuela – where pig is KING – and I blow these people away with this rub – I am From Fayetteville, NC originally - Family in Johnston Co.( Brown's BBQ ) - schooled in pig at ECU, Pitt Co. - Bee's BBQ - AND HAD to blog this out SOMEWHERE ... I hit a recipe that kills. This is my 11th Picnic Cut with this toss …SO IT IS RIGHT !!! Overnight prep yes but worth it. Thawed 6LBS uncooked Picnic Ham . Marinate with Lemon-Pepper, Garlic-Pepper, and Red Wine Vinegar - punch holes in cut with long fork turn and toss in a closed bowl – and leave Fat side down. ONLY 2 to 3 hours. Mix this elixir !!!!! While waiting 1 cup of brown sugar 1 cup of white sugar 2 tsp onion powder 2 tbs paprika ½ cup honey or maple syrup 1 cubitos pollo 1 tsp garlic/pepper powder 2 tsp lemon/pepper 1 tsp cayenne pepper 1 tsp chili powder ½ tsp nutmeg ½ tsp ginger powder 2 tbs red wine vinegar 2 tbs mustard 1 small bottle Malta ( Root Beer) Rinse Picnic then rub/massage your pig to all ends. Picnic Cut has bone so slide your long folk or knife down the bone and push rub in holes !!!MORE THE BETTER !!! FOR Oven – Roasting pan with rack – put aluminum foil between cut and rack underneath –sugar can burn in process in pan 250 F - 4 hours --- Meat probe 150F – pull it out – wrap in foil – replace probe in. It should climb to 170F – let it sit till it comes back to 150F Weber Grill – Strong coals on one side – Picnic Cut on lifting rack – NOT OVER COALS - cover and try not to check for 3 hours … Meat probe 150F – pull it off – wrap in foil – replace probe in. It should climb to 170F – let it sit till it comes back to 150F. BUST OPEN SOME PIG !!!
Posted on:
2 April 2011 - 10:04pm