»

Blogs

»

Health

»

How To Make Fruit A More Enticing Snack
How To Make Fruit A More Enticing Snack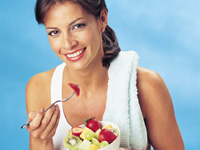 The assertion that fruit and vegetables are essential to a nutritious daily diet is a fact unchallenged by most health specialists. Eating enough of them seems to be the challenge however.
Statistics Canada revealed recently that only 43 per cent of us say we do eat the "5-plus servings" of fruit and vegetables recommended every day. Fruit, for example, makes an ideal snack, but when cravings hit, it would appear that many of us succumb to the more indulgent competition.
"We also surveyed one thousand Canadians recently on the topic of snack choices," says Livio Ghizzardi at Dole Canada, a leading name in fruit products. "Our findings revealed similar numbers: 43 per cent said they only eat fruit as a snack around twice per week, or even less. So all these facts presented us with an opportunity to improve daily nutrition by the development of more creative products, like the single-serve fruit bowls and more recently our fruit crisps topped with whole grain oats."
Here are a few more tips from Dole to make this food group a lot more enticing:
• Place ready-to-eat fruit where you can see it: on the kitchen counter, or on the eye-level shelf of the fridge;
• Buy single-serve fruit cups; have them at breakfast, lunch, or for an afternoon snack. Some fruit cups, with whole grain oats, can be warmed in the microwave. (23 per cent of Canadians have only a beverage for breakfast and 8 per cent skip breakfast altogether: Dole survey).
• Keep your mind open for new options when shopping. Take your time to check out all the ideas in the fresh and packaged fruit sections of grocery stores.
• Add fruit to foods you like. Try it in savoury dishes for example, like poultry, fish, casseroles, on pizza, and even in sauces.
•Serve fruit as an appetizer, along with a green salad every night with dinner. Make it more exciting with ingredients such as pineapple, bananas, mandarin oranges, and nuts.