»

Blogs

»

Coconut

»

How To Make Coconut Candy
How To Make Coconut Candy
Do you want a highly appreciated coconut candy recipe? I have one for you. But not trying out how to make coconut candy after reading about it is one of the biggest crimes you could possibly imagine of committing. These coconut candies are nearly effortless to make. Here's how to make coconut candy.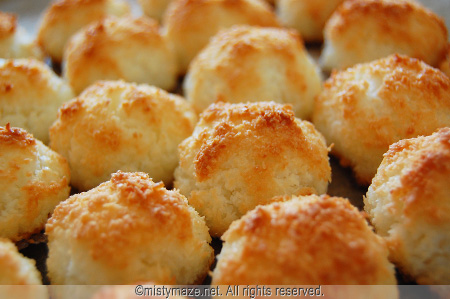 Things required for making coconut candy
1 Stick softened butter
1 Can sweetened condensed milk
2 Boxes powdered confectioners sugar
14 Oz. Coconut
1 1/2 cup Pecans
2 tsp. vanilla
1 piece paraffin (wax)
12 oz semi-sweet chocolate chips
How To Make Coconut Candy
Step 1: Thoroughly mix softened butter and confectioner sugar. Then add the can of sweetened condensed milk slowly to the mixture.
Step 2: Place contents of mixing bowl on stove in pan and heat on low, increasing heat slowly until smooth while occasionally stirring. Once smooth add vanilla, pecans and coconut. Mix it well.
Step 3: Allow the mixture to cool.
Step 4: Then cut in squares. These work best if you put them in the refrigerator for an about 10 minutes.
Step 5: If you want to store coconut candies store at room temperature in an airtight container. This candy will take about a day or two to harden.
Trust me this will be satisfying for every sweet tooth in your household!
Photo: mistymaze.net

asmaa says :
thanks,but would you write all the things we need in grams or cups??
Posted on:
14 May 2011 - 8:22am