»

Blogs

»

Storage

»

How To Keep Garlic Fresh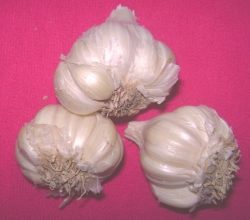 How to keep garlic fresh so that they are always at hand for the next recipe ? Ideally garlic keeps fresh when stored in a cool, dark place for up to a month. The type of container used for keeping garlic fresh is vital in deciding the shelf life of fresh garlic.
Keep Garlic Fresh at Room Temperature
Keeping garlic fresh is a simple process but one that should begin at the market from where only fresh garlic should be bought.
Buy fresh garlic.

If possible buy a garlic keeper. This is a small ceramic pot with small holes or perforations in them. The holes allow for free air flow and at the same time keeps garlic away from light and pests.

If garlic keeper is not available, make do with brown paper bags.

Place garlic in the bags or garlic keeper and close tightly.

Find a dry, cool and dark place to keep the garlic keeper. Make sure that the place is away from sunlight and any kind of moisture. The place should be having 70 percent humidity , good circulation of air and stable temperature. Increased moisture can lead to sprouting of garlic bulbs making garlic taste bitter.

Place garlic containing bags or keepers here.

Garlic keeps fresh on the kitchen counter when stored in garlic keepers during winter months.
Keeping Garlic Fresh by Refrigeration
Keeping garlic in refrigerator is not a very common practice, nevertheless can be done to keep garlic fresh for long periods.
Buy fresh garlic.

Peel the garlic. Do not wash.

Place peeled garlic in a sealed jar.

Keep jar in refrigerator.
Tips to Keep Garlic Fresh
Buy loose garlic heads since garlic in bags will ripen and rot faster.

Check garlic for brown or soft spots, flaky skin etc since these are indications of mold growth. Buy only firm garlic since these would keep fresh for longer periods of time.

Never store garlic in vegetable tray of refrigerator since there is an excess of moisture here and cause garlic to rot quickly.
Know more about how to keep garlic fresh here. Keeping garlic fresh would help in preserving its flavor and healing properties.
Image credit: ifood.tv