»

Blogs

»

Eating

»

How To Eat Rice?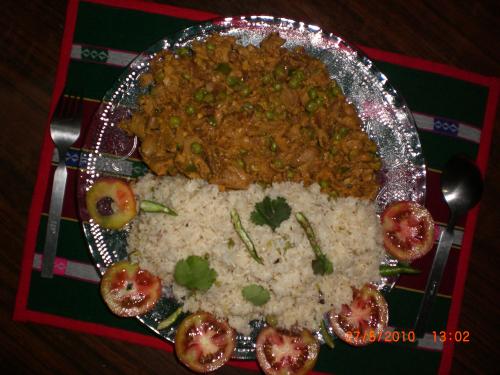 This guide on 'How To Eat Rice' will let you learn about the different ways of eating rice with a spoon, fork or a chopstick or with different type of dishes.
Eating rice with a chopstick
Imagine yourself in a situation when people around you are eating with a chopstick. How to eat rice – may be the first question comes to your mind. You may find eating rice this way a little frustrating initially, but it is not as difficult as you think, if you know the tricks.
Use your thumb and index finger to place the first chopstick and allow it to lie against the fold of skin, while extending it one-third behind your thumb. Let your ring finger to hold the rest of the chopstick's tip. The second chopstick should be used like a writing pen between the index finger and thumb, using the middle finger to keep it steady. Hold the chopsticks closer to the broader ends.

Use your left hand to hold the rice bowl and right to hold chopsticks. When you want to eat rice, bring the bowl and your mouth closer to each other and then grab a clump of rice with chopstick and immediately drop it into your mouth.

You can also use your tip of the ring finger to grip the lower stick, but allow it to rest on the pinky nail bed and use thumb to lock the stick. Use index finger and thumb to lock the upper stick and let it move up and down to grip the rice.

To avoid any embarrassment, firmly and gently press on food so that it will allow you to avoid it falling from the chopsticks. The food falls because excessive pressure on chopsticks forces it cross at narrow ends.

It is recommended to do a little homework, if you know you may be offered to eat rice with chopsticks. Buy a pair of wooden or bamboo chopsticks and practice eating with them at home. Avoid metal or plastic ones because they are difficult to handle, especially for beginners. However, don't expect yourself to become a master overnight. Have patience. It is no sin to ask for a spoon or a fork, if you don't find it comfortable to eat with chopsticks.
Eating rice with spoon, fork or fingers
Eating rice with chopsticks is not the only way to eat this food, there are different other ways to eat rice - like eating it with spoon and a fork or even using hands.
To eat rice with spoon and fork, use left hand to hold fork and right hand to hold spoon.

Place your spoon in the rice plate, gently press it and use fork to support the amount of rice you want on to the spoon.

Use fork to push vegetables, beans, meats etc, paired with the rice, into the spoon and put the spoon into the mouth.

When eating with fingers, use all four of your fingers and pinch rice and press it against your thumb. This will make a small lump of rice. You can either eat it directly or add some curry to it and then make a ball of it before dropping it into your mouth.
Master the skills of eating rice and enjoy this healthy food in your diet.
Image Credit: ifood.tv