»

Blogs

»

Eating

»

How To Eat Leche Frita - The Spanish Dessert
How To Eat Leche Frita - The Spanish Dessert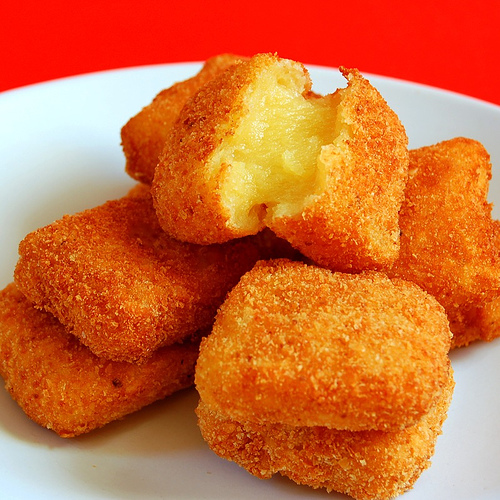 You have not tasted Spanish food until you know how to eat Leche frita and this is no exaggeration. Leche frita or the Spanish fried milk is the quintessential street food dessert that will surely take you on a journey to the heaven and back! Wondering what I am talking about, then read on and find out everything that you ought to know about Leche frita.
Leche Frita is a traditional Spanish dessert or postres, and like all traditional recipes, there are several methods of preparing this dish. However, the basic principle remains the same, which is to cook the milk with flour, sugar, and eggs to make thick custard. The custard is then cut into square or rectangular pieces and deep fried in olive oil.
Though, it is believed to have originated in the San Sebastian area of Basque Country, Leche frita, is today fondly eaten throughout Spain. If you wish to eat Leche frita, you don't need to worry at all, because like other traditional Spanish sweets, there are no set rules for eating Leche frita.
Being a sweet milk based dish, it is typically served as a dessert at the end of the meals; however, you can also eat is as a light tea time snack, or as a sweet appetizer (so claims my Spanish host). Leche Frita is usually served with powdered sugar and cinnamon sprinkled on the top. However, you may also choose to top the dish with lemon zest, fruit jam, caramel, or vanilla liqueur for a more subtle or enhanced flavor. Lecche frita tastes best when served warm, but it is not uncommon to find Leche frita being eaten cold.
So, depending on your personal preference and taste you may choose to eat the Spanish fried milk in whichever way you choose. In fact, I found this café nearby, which served "Leche Frita Sizzlers" - hot Leche frita topped with vanilla ice cream and chocolate syrup. Though quite untraditional, I found this to be a very interesting way of eating Leche frita.
Image Credits: recetaspostres.info, muchogusto.net