»

Blogs

»

How To Eat Chocolate Cheese
How To Eat Chocolate Cheese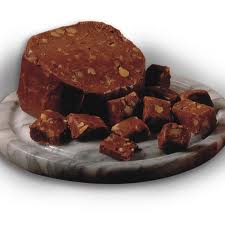 Chocolate cheese brings together chocolate and cheese in a wonderful creamy avatar. Chocolate cheese are cheese slices with chocolate flavor. Fonterra, the New Zealand based dairy company is behind this appetizing combination of cheese and chocolate. Called the Chesdale chocolate cheese slices, they have a mild chocolate flavor and creamy texture. Read on to know about some tips to eat chocolate cheese in the most delightful way.
Delightful Ways To Eat Chocolate Cheese
Chocolate cheese is hard cheese and can be picked off the cheese platter with your fingers.

Alternately, use dinner knives to delve into the cheese and eat it off the knife directly. Make sure that you pause a moment and smell the cheese before putting it into your mouth like a pro.

Eat bread and crackers served with cheese to cleanse the palate prior to tasting the next type of cheese.

Eat cheese slices placed between slices of toast or bread.
Children have been found to eat chocolate cheese with relish and parents of children and too have taken a liking for this product due to the protein, calcium and less sugar present in these cheese slices. Chocolate cheese slices are more nutritious than other similar products. The taste of chocolate cheese is best demonstrated by the given recipe:
Chocolate cheese fudge: Melt cheese and butter in a large saucepan on low heat. Remove from heat and add chopped nuts (pecans, walnuts, almonds) and vanilla extract. In another bowl, mix together sugar and cocoa. Fold in the butter and cheese mixture. The mixture will turn hard and would need to be pushed into a greased pan. The candy now needs to be refrigerated before being cut into small shapes and eaten.
Chocolate cheese slices would appeal to all those who like chocolate and cheese. So get going and try it out.
Image credit: qwikstep.eu