»

Blogs

»

Storage

»

Drying

»

How To Dry Figs
Drying figs at home is not any herculean task and if you are willing to how to dry figs the best way at home, I have some great tips and techniques for you. Figs are always tasty when they are eaten fresh but then dried figs have a special taste. It's sad that most people prefer to eat dried figs only in their cookie forms but once you taste a dried fig in its simplest form, you will realize the taste is really different and good. It is not at all difficult to dry figs but them you must try them well. Once you are done, I can assure you, the rewards will be simply great.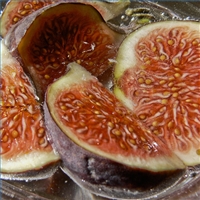 Here's how to dry figs nicely –
The first in your fig drying process is to let your fruits ripen completely. This will enhance their flavor and if you want to get the very best out your dried figs, it is worth the wait. But then how will you know, if they have fully matured? In that case, I will consider you lucky if have a fig tree. This is because; the best way of determining the ripeness of your fruit is drop them off the tree. You know your ripe fig is at its best when it falls off the tree all by itself.

Now, for the second step, cut all your figs in half and put them on a clean surface for drying. Remember to place the fruits with their skin side facing down. If you are drying figs in the oven, it is advisable that you use cooling racks or a dehydrator rack. If you are more interested to know how to dry figs in the sun, then I would suggest you to place your fruits on a clean wooden frame stapled with an old sheet.
Tips
Always choose a warm and less humid day for drying figs in the sun. Sun drying figs should be done with more care. For example, you need to make there are no bugs or flies over them. So, cover your fruits with cheesecloth. For killing insects, you can pasteurize them or freeze them for 4 to 5 days.
Picture Source: www.ehow.com

Anonymous says :
My fig tree is in a field where there are young bull beef cattle and they are eating the lower branches,leaves and fruit.So as the fruit is almost ripe and soft i have been picking them for the purpose of drying.Now at this point i must explain the dilema.I have been cutting the figs in half and coating with sugar prior to placing in the airing cupboard in stainless containers skin down and with with a heat lamp to bring up the heat to around 115degrees F.After 5 hrs i have noticed that the sugar has dissolved off the figs and into the bottom of the containers leaving the figs sitting in a syrup .Do i drain of the sugar sryup and turn the figs over every 2 hrs or so or leave them and let the sugar syrup crystalize.Yes that is the question.
Posted on:
7 April 2011 - 4:52am