»

Blogs

»

How To Assemble A Topsy-Turvy Cake
How To Assemble A Topsy-Turvy Cake
Assembling a topsy turvy cake is a story that is best told with pictures. Though when I contacted the chef, she acted like a true magician, telling me how mysterious and secretive assembling a topsy turvy cake can be! Well, here is the story of assembling a topsy turvy cake without the tricks!
Step 1- Decide how many tiers…usually a three tier topsy turvy cake looks nice.
Then bake the required amount of cakes of sizes,which in this case were 5″, 7″, and 9″. Each cake tier must have 3 layers of cake and 2 layers of filling. This means there will be 9 cakes in all.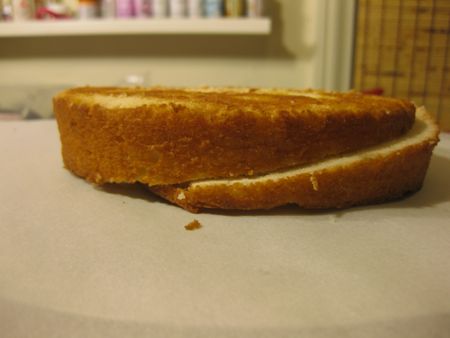 This particular cake is a coconut buttermilk cake with lemon cream and coconut cream cheese frosting. Once you fill and stack your cake, you need to cut the top layer of the cake at an angle and then flip it over to create the sharp curve at the top of the cake. The photo will make it clearer.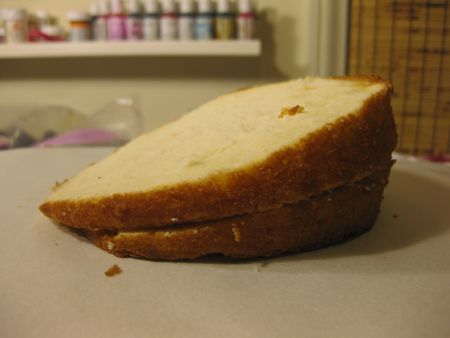 To get those layers to stick together add a little filling and frosting to them to adhere. Always use a serrated knife when cutting your cakes and make sure they are thoroughly chilled too.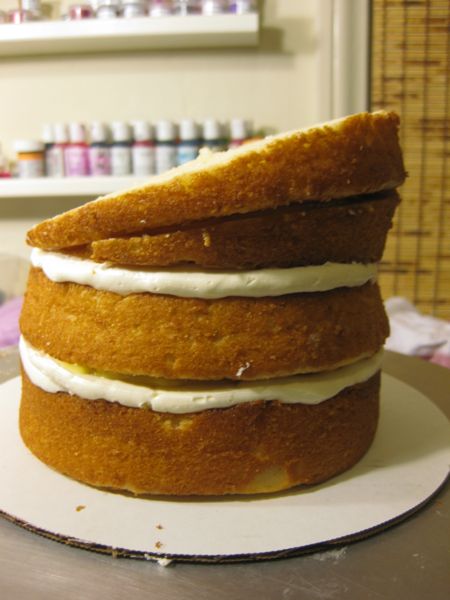 Since, the whole trick in assembling a topsy turvy cake is about creating an illusion that all the cakes are topsy-turvy, you just have to understand that actually the cakes are sitting on a level surface!
Step 2- Make that level surface- Once frosted you need to refrigerate the cake until the frosting is hard. This is a very important step. Creamy and uncooled frosting will result in a disaster. your finished cake with the fondant will look like this. The next step involves placing paper on top of this cake, so it should be cold and non creamy.
Then take a piece of parchment paper and trace the size of the next tier that while be sitting on top of it.
Cut out the circle and place it on the center of the cake it will be sitting on. Then using a serrated knife cute the shape out of the cake below. You need to make sure you cut into the cake so that the area is level and flat.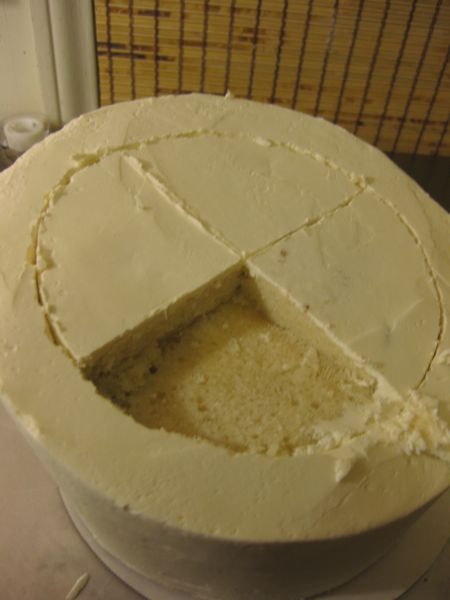 You are basically creating
the illusion of the cake sitting at an angle, when in reality it is level. See the photo!! Don't panic!!heehee
Done? Be sure you scoop out a lot of the last top cake, so that your next tier can sit in comfortably. Then you need to frost the exposed area and cover the cake in fondant. This will make your cake look smooth all over.
Try and cover the cake board in the same color fondant so that they cake has a finished look to it.
Before stacking the cakes make sure and carve and cover all of your cakes in fondant. Then put your dowels (supports) in the cake. Make sure and cut the dowels all the same height so the cake is level.
Then add a little buttercream to the base where the cake will be sitting on and place the tiers onto each other…adjusting them until you like the position of the cake.

Depending upon what you look you would like your cake to have, you may use airbrush machine to color the fondant more of a pink color and added a pearl shimmer to it also. Does it look yummy?
Now, go crazy with the fondant, and make stars, pearls, curves all out of fondant. And here is your yummy illusion like topsy turvy cake!
This was the final cake,and I could get none of it, the customers were already lined up outside!! but hey! now I know the trick too!!
Image Credits- mysweetandsaucy.com,design-wedding-cakes-pictures.blogspot.com

ELIZABETH KING says :
and your decolation it's good much so proud for your self to done that nice cake and nice decolation.
Posted on:
20 July 2012 - 5:33am