»

Blogs

»

Health

»

Health Benefits Of Strawberry Fruit
Health Benefits of Strawberry Fruit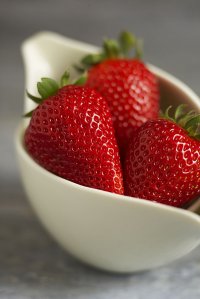 It is not wrong to say that strawberry is a wonder fruit. It is rich source of antioxidants and it helps in putting a stop to cardiovascular diseases, cancer. There are several other health benefits of strawberries too. They help in slowing down aging. Strawberries health benefits also include that they are a great source of vitamins and minerals and they are low in calories. During the season when strawberries are available in abundance, you should include it as a part of your daily diet considering the several health benefits that the strawberries possess.
Health Benefits of Starwberry
Studies recommend that the high antioxidant levels possessed by strawberries can help neutralize the harmful effects of free radicals in your system. Antioxidants also help in boosting the immune system and keeping off diseases such as cold and flu.
Strawberries can also be used to whiten teeth. The acids present in this fruit can help in erasing the any sort of stains from the teeth. For this you will have to slice a strawberry into half and then rub it on your teeth and gums. This will gradually remove tartar and strengthen your gums.
Strawberries are useful in reducing the risk of heart attack. This fruit is a rich source of potassium and tpoassium helps to normalize the electrolyte levels in your body, thus lowering the risk of heart attacks. Strawberries also consist of folate which is a key ingredient useful for manufacturing red blood cells.
Strawberries prove to be most beneficial when they are eaten raw. It will be great if you begin your morning breakfast by eating raw strawberries along with cereal. This nutritious combination will give you're the lot of energy that will keep you going on for the whole day.
Strawberries are fat free, so they are perfect food for your diet. An entire cup of strawberries consist of only 0.6 grams of fat. Strawberries not only suppress your appetite but they also tend to stimulate your metabolism.
Strawberries are an immense source of vitamin C. the fruit consists of more vitamin C, even more than most citrus fruits. Because of this, strawberries are great for fighting against some forms of cancer and they are also known to control bad cholesterol.
So the next time when you go out to buy fruits, do not allow strawberries slip from your mind.
image credits : ayeshahaq.wordpress.com