»

Blogs

»

Shopping

»

Gifts

»

Gift Pasta: How To Tips & Ideas
Gift Pasta: How to Tips & Ideas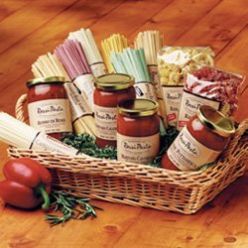 This article has tips and techniques to gift pasta for any occasion. Pasta is easily available at local grocery stores. A pasta lover will appreciate if you gift different pasta variations along with pasta sauces and other Italian dressings. Read on for more ideas.
How to Choose the Best Pasta to Gift
Buy different types of pasta to add variety to your gift. Go for various shapes including long pastas, such as spaghetti and fettuccine, or short pastas, such as penne and rotini. Gourmet pasta in unique shapes, such as bow ties, angel hair, or shells may also be purchased from a specialty store so as to add a touch of elegance to the gift.
Ways to Gift Pasta
Buy jars of pasta sauce. Pick up different varieties including a simple marinara, a pesto, vodka sauce, and a Bolognese.

Gift a pasta platter that contains different pasta varieties along with pasta sauces.

Pick up different dried herbs, such as parsley, thyme, basil, and oregano, which add a nice flavor to the dish. Do not forget a wedge of Parmesan cheese.

Lastly, buy an Italian cookbook in order to complete the basket. This book should have several different pasta recipes which can be tried at home by the recipient.

You may also cook up interesting pasta recipes and gift them. For more information on making finger-licking pasta, click here.
Packaging Ideas for Presenting Pasta
For making the base of the gift, buy a large pasta bowl or the one that is suitable for your products. Look for a decorative box or basket, as it will make the gift look eye-pleasing. For more ideas on making an appealing pasta gift basket, refer to my other blog pasta gift basket ideas.
Gift pasta to delight those who love Italian cuisine or those who are fond of cooking!
Image credits : moonbun.hubpages.com